SEO & PPC Agency in
MICHIGAN, USA
Dominate your competitors and attain the #1 spot in the search engines with our SEO services. As a leading SEO company in Michigan, we at Incrementors have served over 10,000 clients, and we are proud to have been awarded as the best SEO agency, Fastest-Growing Digital Marketing Company in 2021, and Most Innovative Company in 2022.

Why Businesses In Michigan Trust Our
SEO Services?
Bring us your problem, and we'll give you a solution!
That is how Incremnetors works. We work for you and will make sure you are satisfied with our services. We know that the first thing every small business owner has to do is find the best service provider that offers affordable SEO services and can drive results quickly.
That's where Incrementors comes in as the most affordable and result-oriented SEO agency in Michigan. We provide the best SEO solutions that are customized and tailored as per the needs of our clients.
"We Don't Just Aim; We Deliver!"
Our Only Priority Is Our Clients
With over 2.8 million hours of indefinite experiments and designing we have served more than 10,000 clients in the U.S. Our sole focus is to deliver rich results to our clients with the most affordable and customized SEO services according to their needs to make their business website dominate the SERPs.
With our commendable passion and utmost dedication to serving our clients to our potential, we've generated more than $7.5 million in revenue for our clients and are looking to double that shortly. That's why we say, "Our Customers Are Our Own Promoters."
Our success is straightforwardly related to customer satisfaction. As the best SEO company, in Michigan, we have a dedicated team of professional SEO experts who are trained to understand your business goals and deliver customized SEO solutions.
Expert Digital Marketing Agency In The U.S. Since 2012
Incrementors have been in the industry since 2012 and have served over 10,000 clients globally. With the most consistent and streamlined records in the past 10 years, we have the best-customized solutions for each client that needs our SEO services in Michigan.
We have achieved tremendous progress by offering the best SEO services to our clients throughout the United States of America. That's why we were awarded as the Best Local SEO Agency and the Top #10 Most Reviewed SEO companies in 2021 and also recognized as one of the fastest-growing companies and the Most Innovative Companies in 2022.
Highly Qualified SEO Experts
Whatever the business requirement, we are grateful to have a workforce of SEO experts and specialists who can do wonders for your websites to reach more customers and drive more on-foot customers. We don't give excuses; we deliver the best and most result-driven services to our potential.
We do not have a team; we have a powerhouse of skilled marketing specialists with years of expertise, seasoned developers, and designers dedicated to delivering the best results for clients.
Every team member is a recognized SEO nerd who just keeps exploring new search engine strategies on how to dominate the SERPs. That's how we deliver rich results for our lovely clients.
Personalized & Customized Solutions
"We Stay Updated With The Ongoing Trends"
Not like any other agency that offers repeated and old strategies, we, as a reputed SEO agency in Michigan, tend to deliver customized and personalized services according to the needs and requirements of our clients.
Therefore, Incrementors Web Solutions is an award-winning digital marketing agency that specializes in providing customized, tailored solutions for our clients to enhance their digital presence and attain the number 1 spot in the SERPs.
Crystal Clear Reporting
We are open to showing what we do, and how we do to satisfy our clients. At Incrementors Web Solutions, we pride ourselves on providing clear, accurate, and detailed reports to our clients.
We believe that our transparent reporting provides our clients with the data and insights they need to make informed decisions and see the results of our efforts. Therefore, everything we do to build a successful SEO campaign for our clients is completely transparent.
This is why we are trusted, as we Deliver 100% Transparent, Functional, and Crystal-Clear Reports without keeping any secrets from our clients.
We Are Available 24/7 For Our Clients
We are at your service whenever you need us. No matter what time of day it is, you just have to call us, and our team of professionals is available to answer your queries 24/7.
Solving your problems in a timely and effective manner is our primary goal. We are dedicated and focused on driving better results for your website to rank higher and make more conversions.
It is also not like every time you make a call, you will be directed to some other executive. At Incrementors in Michigan, U.S., we will assign you a dedicated manager who will communicate with you from the beginning and GET THE WORK DONE IN THE ALLOWED TIME.
ARE YOU SERIOUS ABOUT DOUBLING
YOUR REVENUE?
Claim Your Free 30-Minute Strategy Session
How SEO In MICHIGAN Can Help You?
SEO is more than just a buzzword – it's the key to unlocking the full potential of your website. From increased reach and infinite sales to massive revenue growth, SEO can deliver it all.
If you believe that your website will rank high without any effort, you will undoubtedly be losing leads and sales that your competitors are taking away from you. See, understanding search engine optimization is a very critical part, and coming up with strategies is even more crucial.
And let's be real, if your website isn't easily found by potential customers, they're going to turn to your competitors.
Therefore, search engine optimization (SEO) is crucial for any online business looking to improve its visibility and reach in search engine results pages (SERPs). A well-optimized website can drive more traffic, generate more leads, and ultimately increase sales and revenue.
But with the right SEO strategies in place, you can ensure that your website stands out and drives real results. So, don't let your competition leave you in the dust. It's never too late—invest in SEO and watch your business soar.
Here are some of the key benefits of SEO for businesses:
Higher Rankings
With the right SEO strategies and best practices, your website can rank higher in the SERPs, which can result in more visibility and traffic.
Increased Traffic
A higher ranking in the SERPs can lead to an increase in website traffic, as more people will be able to find your website.
More Leads
A higher ranking can also lead to more leads, as people tend to trust and visit more highly ranked websites.
More Sales & Revenues
With more traffic and leads, your business can potentially see an increase in sales and revenue.
Brand Awareness
SEO can also help increase brand awareness by making it easier for people to find and learn about your business.
It's essential to work with a reputable and experienced SEO agency that can help you achieve these benefits and reach your business goals.
Need any sort of help or guidance? Here's a win-win situation!
Tired of reading long PDFs? Are you a quick action taker?
Use the tool below to audit your website and start fixing it within the next 5 mins.
Rise To The Top Of The SERPs With Us!
Get ready to outshine your competitors, see a significant increase in your website's visibility, and reach the Top Spot with the most Trusted Digital Marketing Agency in Michigan. Incrementors is a reputable SEO agency based in Michigan, U.S., that has successfully assisted over 10,000 businesses in establishing a strong online presence and reaching the top of search engine results pages (SERPs).
If you're also looking to enhance your online presence and increase your rankings, then look no further. Our team at Incrementors has over 10+ years of experience and a proven track record of delivering outstanding results for our clients. We have served thousands of businesses with top-notch optimization techniques that are tailored to meet their specific needs.
Our team of highly qualified SEO consultants and dedicated professionals are committed to providing you with the best quality SEO services in Michigan to help you reach the #1 spot on the SERPs. With our expertise, you can trust that your business will be in good hands.
Don't let your competition steal your customers. Take control of your business's better visibility with us as your SEO agency in Michigan.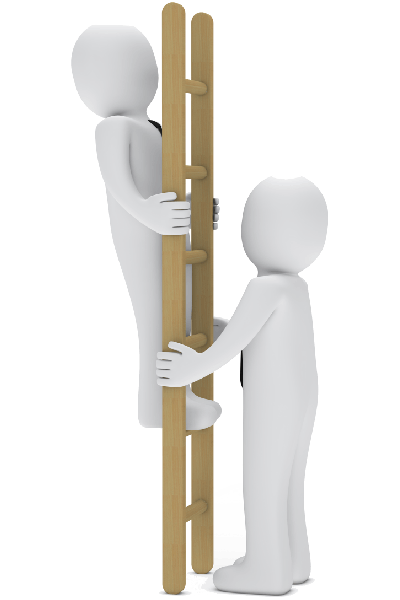 Maximize Your Online Potential With Our

SEO Services

In Michigan
Are you tired of having a website that gets little to no traffic? Are you struggling to reach your target audience and generate leads? Don't wait any longer to reach your online potential. Contact us today! Incrementors as the best SEO company in Michigan, will help you take your business to the next level with our results-driven SEO solutions.
At Incrementors, we understand the challenges that businesses face in today's digital world. We know that it's not enough to just have a website, you need a website that is optimized to drive traffic and convert visitors into paying customers.
That's where we come in to help businesses get what they are missing. We are a full-service digital marketing agency that offers Customized SEO solutions to help businesses dominate their competitors and get to the top of search engines.
Our team of Michigan SEO experts has over 10 years of professional experience and a proven track record of delivering results for our clients. We offer a wide range of Michigan SEO services tailored to meet your specific needs and goals.
From keyword research and on-page optimization to link building and local SEO, our goal is to help you increase your online visibility and drive more traffic to your website.
Discover a full range of Michigan SEO services at Incrementors
Search engine optimization, or SEO for short, is all about giving your website a boost in the rankings so you can drive more organic traffic. To make that happen, you need to focus on two main things: quality content and a solid website structure. That means you need to make sure your website's pages are chock-full of engaging, relevant information that includes the keywords your target audience is searching for. And you need to make sure your website's SEO design makes it easy for search engines to understand what your pages are all about. When you've got both of those things working for you, you'll start seeing your website climb the ranks in Google's search results.
If you are looking for affordable SEO services in Michigan, Incrementors is the best option available, with the most affordable solutions and the best plans tailored to your needs.
If your business has a website that is not getting enough traffic and not generating enough leads or sales, then investing in SEO can be beneficial. Hiring an SEO professional or agency can be worth it for many businesses, as SEO can improve a website's visibility and rank in search engine results pages (SERPs). At Incrementors, we make sure to use the best practices and deliver the best results for your business with our Michigan SEO services.
"While looking for someone to implement SEO for me, I came across Shwetabh on Upwork with Incrementors. I preferred them because of the existing work he had done and the proven results he had, which were quite remarkable and what piqued my interest. The results that he had were quite impressive, and what I found noteworthy was that many of the competing suppliers merely gave me the data they had. The other reasons include the implementation work itself, the cost, and the fact that they're hands-on. It was impressive to see how they applied their SEO expertise, which involved a lot of backlinking efforts, identifying key keywords, and a lot of specific topics. They did the work, and they did a fantastic job at documenting everything with lots and lots of spreadsheets, analyzing all the numbers, and tracking increases throughout while staying up to date with the Google algorithm modifications. Overall, I had a high standard of service, and I would highly recommend them."
"I've been working on SEO for my website Learnbrands.com with Devendra at Incrementors for more than a year. Working with Devendra (SEO expert), I have seen significant increases with all of our keywords. In addition to improvements in actual SEO, some of the biggest improvements I saw were keywords that were ranked in the 30s or 60s on the SERPs moving up to the one, two, and three spots. We continue to work on more and more keywords and see improvement in everything. With his great help and expertise, he produces rich results for my website. Very well coordinated through email communication, transparent reporting, and much more. I appreciate their efforts and strategies. Great job, and highly recommended SEO experts and company."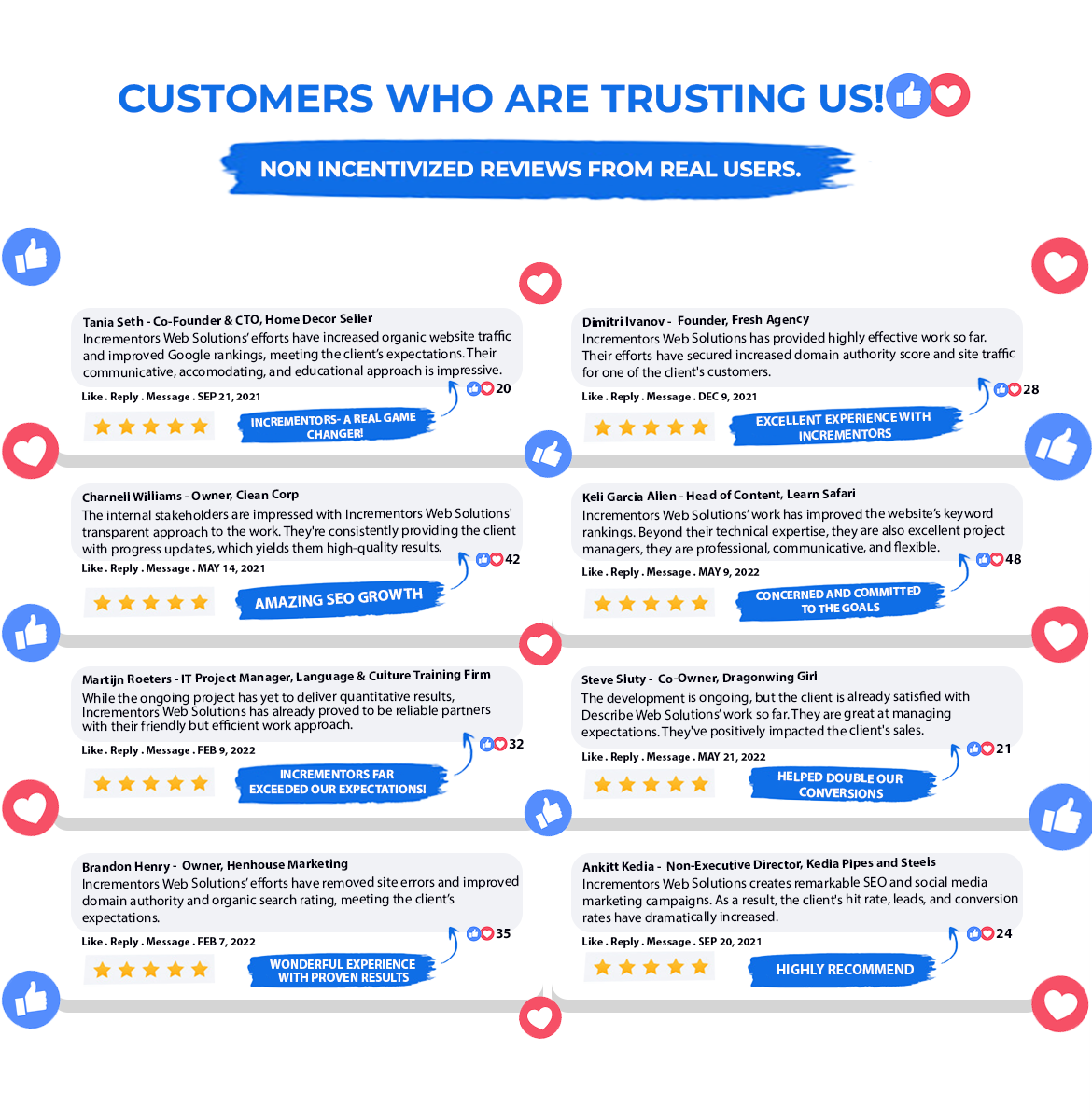 We Will
Get Your Sales Call

Higher

Incrementors Web Solutions – MICHIGAN, USA


2025 W El Camino Ave Apt102

, 

Dr. Canton Michigan

, 

95833

 

US
Working Operation
Open 24/7
---
Monday :- Open 24 hours
Tuesday :- Open 24 hours
Wednesday :- Open 24 hours
Thursday :- Open 24 hours
Friday :- Open 24 hours
Saturday :- Open 24 hours
Sunday :- Open 24 hours
Contact us if you are serious about doubling your revenue.