SEO & PPC AGENCY IN
SACRAMENTO, USA
Outperform your rivals and claim the top position on search engines with our SEO services. As a prominent SEO company in Sacramento, Incrementors has successfully catered to over 10,000 clients. We take pride in being recognized as the finest SEO agency, the Quickest-Expanding Digital Marketing Company in 2021, and the Most Inventive Company in 2022.

WHY DO COMPANIES IN SACRAMENTO RELY ON
OUR SEO SERVICES?
Present us with your challenge, and we'll offer a solution!
That's the philosophy of Incrementors. We're here for you, ensuring your satisfaction with our services. Every small business owner's initial task is to locate an excellent service provider that delivers affordable SEO services swiftly and effectively.
Incrementors steps in here as the most cost-effective and results-focused SEO agency in Sacramento. We supply top-notch SEO strategies, designed and modified to suit our clients' specific requirements.
"We Don't Just Promise; We Fulfill!"
OUR CLIENTS ARE OUR SOLE FOCUS
Having clocked over 2.8 million hours of relentless experimentation and design, we've catered to more than 10,000 clients across the U.S. Our principal objective is to yield substantial results for our clients, offering the most affordable, customized SEO services designed to let their business websites rule the SERPs.
Our exceptional passion and unswerving commitment to our clients push us to our limits. We've generated over $7.5 million in client revenue and are aiming to double that soon. That's why we assert, "Our Customers Are Our Best Advocates."
Our achievement is directly linked to client satisfaction. As the leading SEO company in Sacramento, we have a dedicated squad of professional SEO experts trained to comprehend your business objectives and deliver tailor-made SEO solutions.
EXPERT DIGITAL MARKETING AGENCY IN THE U.S. SINCE 2012
Since 2012, Incrementors has been a force to reckon with in the industry, serving over 10,000 clients worldwide. With an unbroken track record over the past decade, we provide uniquely tailored solutions for each client needing our SEO services in Sacramento.
We've made remarkable strides by providing top-tier SEO services to clients across the United States. This excellence led to our recognition as the Best Local SEO Agency and one of the Top #10 Most Reviewed SEO companies in 2021. We also earned accolades as one of the fastest-growing firms and the Most Innovative Companies in 2022.
HIGHLY SKILLED SEO PROFESSIONALS
No matter the business need, we're proud to have a team of SEO professionals who can transform your website to attract more online and in-person customers. We don't make excuses; we deliver high-performance and outcome-focused services to our clients.
We don't just have a team; we possess a powerhouse of experienced marketing experts, seasoned developers, and designers all committed to delivering optimal results for clients.
Each team member is a certified SEO enthusiast, always exploring new strategies to conquer the SERPs. That's how we consistently deliver outstanding results for our valued clients.
BESPOKE & TAILORED SOLUTIONS
"Keeping Pace With Current Trends"
Unlike typical agencies that recycle outdated strategies, we, at Incrementors, a distinguished SEO agency in Sacramento, prioritize creating personalized and bespoke services tailored to meet our clients' specific needs and desires.
Hence, Incrementors Web Solutions, a decorated digital marketing firm, excels in crafting custom solutions for our clients, augmenting their online footprint, and securing the coveted #1 position in SERPs.
TRANSPARENT REPORTING
We believe in transparency and happily show our work process to satisfy our clients. At Incrementors Web Solutions, we take pride in offering clear, precise, and comprehensive reports to our clients.
Our open reporting provides our clients with valuable data and insights, enabling them to make informed decisions and witness the results of our work. As such, every aspect of our successful SEO campaigns is entirely transparent.
That's why we've earned trust – we deliver 100% Transparent, Operational, and Unambiguous Reports without hiding anything from our clients.
WE'RE AVAILABLE 24/7 FOR OUR CLIENTS
We're here to assist you whenever you need us. Regardless of the hour, a simple call will connect you with our professional team, ready to resolve your queries 24/7.
Prompt and effective problem-solving is our top priority. We're committed to driving improved outcomes, helping your website rank higher, and achieving more conversions.
Furthermore, we ensure continuity in communication. At Incrementors in Sacramento, U.S., we provide a dedicated manager who will maintain direct communication with you from start to finish, ensuring WORK IS COMPLETED WITHIN THE STIPULATED TIME.
ARE YOU SERIOUS ABOUT DOUBLING
YOUR REVENUE?
Claim Your Free 30-Minute Strategy Session
HOW CAN SEO IN SACRAMENTO ASSIST YOU?
SEO isn't just a popular term—it's your ticket to unlocking your website's full potential. With its ability to expand your reach, drive limitless sales, and trigger massive revenue growth, SEO can make it all happen.
If you assume your website will rank high with no effort, you'll inevitably lose leads and sales that your competitors will scoop up. See, comprehending search engine optimization is critical, and formulating strategies is even more important.
Let's face it, if your website isn't easily found by potential customers, they'll turn to your competitors.
That's why search engine optimization (SEO) is vital for any online business aiming to enhance its visibility and reach on search engine results pages (SERPs). A well-optimized website can attract more traffic, create more leads, and ultimately boost sales and revenue.
But with the appropriate SEO strategies, your website can stand out and produce real results. So don't let your rivals leave you behind. It's never too late—invest in SEO and watch your business flourish.
HERE ARE SOME KEY ADVANTAGES OF SEO FOR BUSINESSES:
SUPERIOR RANKINGS
Using proper SEO strategies and best practices, your website can climb higher in the SERPs, resulting in increased visibility and traffic.
ENHANCED TRAFFIC
Higher ranking in the SERPs can boost website traffic, as more people will find your website.
ADDITIONAL LEADS
Superior ranking can also generate more leads, as people trust and visit highly-ranked websites more often.
INCREASED SALES & REVENUES
More traffic and leads can potentially lead to a surge in sales and revenue for your business.
BRAND RECOGNITION
SEO can also elevate brand recognition by making it easier for people to find and learn about your business.
Partnering with a trustworthy and experienced SEO agency is crucial to attaining these benefits and achieving your business goals.
Need any sort of help or guidance? Here's a win-win situation!
Tired of reading long PDFs? Are you a quick action taker?
Use the tool below to audit your website and start fixing it within the next 5 mins.
SOAR TO THE PEAK OF THE SERPS WITH US!
Prepare to outperform your rivals, experience a substantial surge in your website's visibility, and claim the Top Spot with the most Reliable Digital Marketing Agency in Sacramento. Incrementors is a respected SEO agency based in Sacramento, U.S., that has effectively supported over 10,000 businesses in forging a robust online presence and reaching the summit of search engine results pages (SERPs).
If you're aspiring to boost your online visibility and elevate your rankings, then search no more. Our squad at Incrementors has a decade-plus of experience and a demonstrated history of producing exceptional results for our clientele. We've serviced thousands of businesses with premium optimization strategies that are customized to address their particular needs.
Our team of expert SEO consultants and devoted professionals is devoted to furnishing you with the finest quality SEO services in Sacramento to help you attain the #1 position on the SERPs. With our proficiency, you can believe that your enterprise will be well cared for.Don't let your competitors nab your customers. Assert command of your business's improved visibility with us as your SEO agency in Sacramento.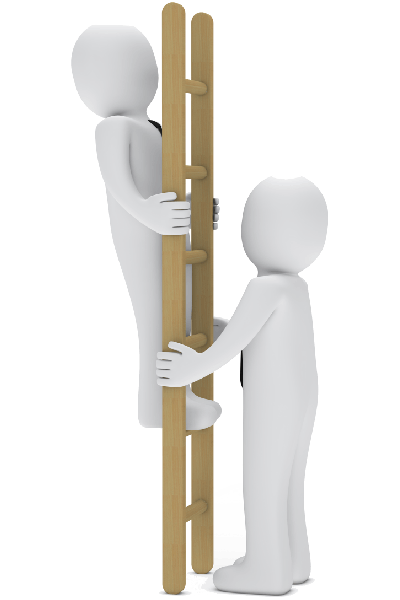 Your Vision Is Our Mission
AMPLIFY YOUR ONLINE REACH WITH

OUR SEO SERVICES

IN SACRAMENTO
Are you frustrated with a website that sees scarce traffic? Struggling to engage your desired audience and generate leads? Don't hesitate to tap into your online potential. Reach out to us today! As the leading SEO company in Sacramento, Incrementors will aid in propelling your business to greater heights with our results-oriented SEO strategies.
At Incrementors, we acknowledge the hurdles businesses encounter in the current digital era. We understand that merely owning a website isn't sufficient, you need a site that is primed to attract traffic and transform visitors into active customers.
We step in to provide businesses with what they lack. We're a comprehensive digital marketing agency, offering bespoke SEO solutions to help businesses outpace competitors and ascend to the pinnacle of search engine results.
Our Sacramento SEO professionals boast over a decade of professional experience and a solid track record of delivering outcomes for our clientele. We render a broad spectrum of Sacramento SEO services, designed to fulfill your distinctive needs and objectives.
Ranging from keyword research and on-page optimization to link building and local SEO, our mission is to enhance your online visibility and channel more traffic to your website.
Explore an extensive suite of Sacramento SEO services at Incrementors.
"While looking for someone to implement SEO for me, I came across Shwetabh on Upwork with Incrementors. I preferred them because of the existing work he had done and the proven results he had, which were quite remarkable and what piqued my interest. The results that he had were quite impressive, and what I found noteworthy was that many of the competing suppliers merely gave me the data they had. The other reasons include the implementation work itself, the cost, and the fact that they're hands-on. It was impressive to see how they applied their SEO expertise, which involved a lot of backlinking efforts, identifying key keywords, and a lot of specific topics. They did the work, and they did a fantastic job at documenting everything with lots and lots of spreadsheets, analyzing all the numbers, and tracking increases throughout while staying up to date with the Google algorithm modifications. Overall, I had a high standard of service, and I would highly recommend them."
"I've been working on SEO for my website Learnbrands.com with Devendra at Incrementors for more than a year. Working with Devendra (SEO expert), I have seen significant increases with all of our keywords. In addition to improvements in actual SEO, some of the biggest improvements I saw were keywords that were ranked in the 30s or 60s on the SERPs moving up to the one, two, and three spots. We continue to work on more and more keywords and see improvement in everything. With his great help and expertise, he produces rich results for my website. Very well coordinated through email communication, transparent reporting, and much more. I appreciate their efforts and strategies. Great job, and highly recommended SEO experts and company."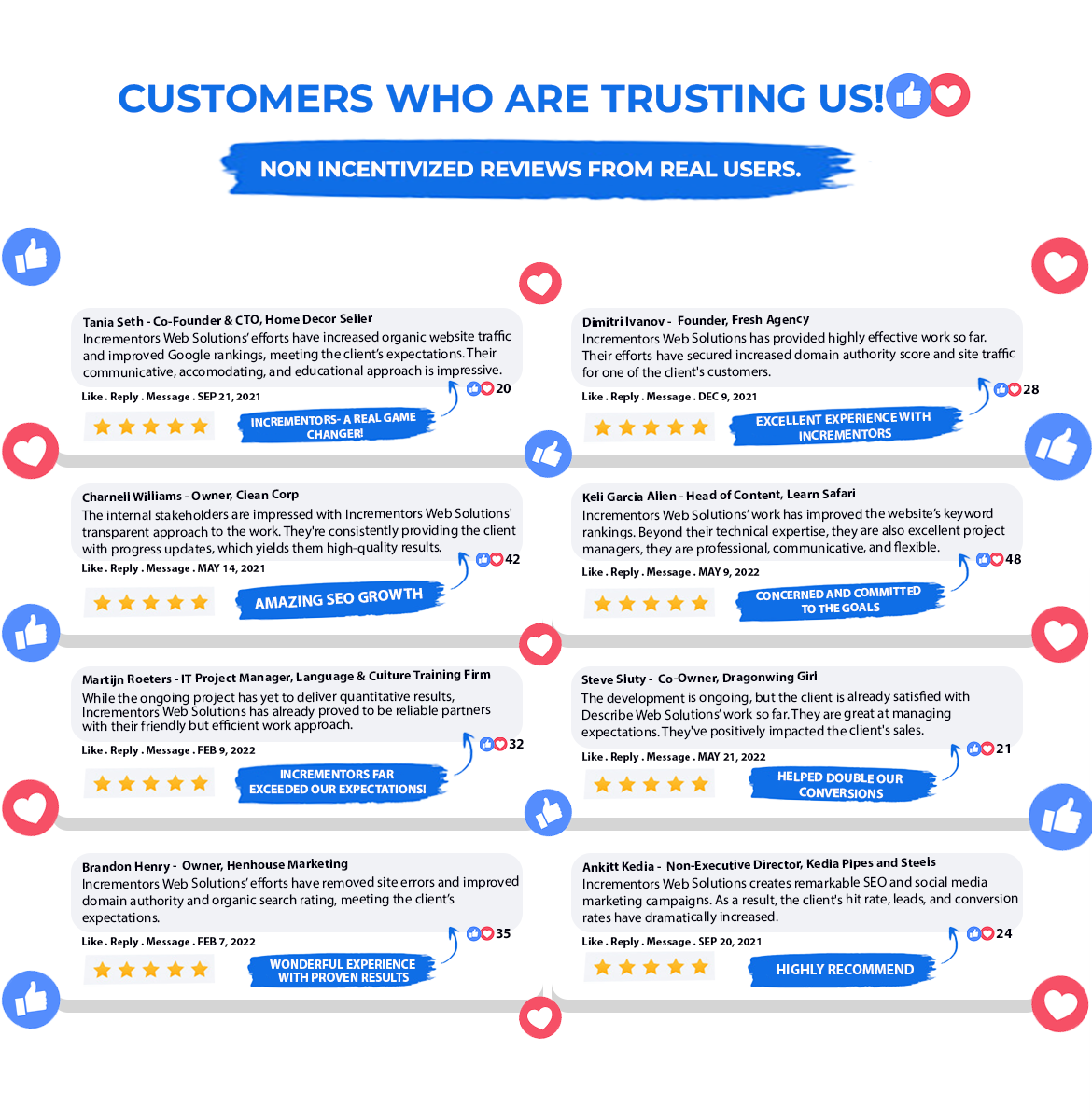 We Will
Get Your Sales Call

Higher

Incrementors Web Solutions – Sacramento, USA
2025 W El Camino Ave Apt102
Sacramento

, 

CA

, 

95833

 

United States
Working Operation
Open 24/7
---
Monday :- Open 24 hours
Tuesday :- Open 24 hours
Wednesday :- Open 24 hours
Thursday :- Open 24 hours
Friday :- Open 24 hours
Saturday :- Open 24 hours
Sunday :- Open 24 hours
Contact us if you are serious about doubling your revenue.