SEO & PPC Agency in
Wyoming, USA
Need new ways to boost your website? Try Incrementors, your Wyoming Digital Marketing Agency, to shoot your website to new heights. We're experts in giving you the best and most powerful SEO services in Wyoming.

WHY ARE WE DIFFERENT FROM OTHER SEO
AGENCIES IN WYOMING?
We're not just another SEO agency in Wyoming, repeating the same old practices solely aimed at gaming Google's rules. Incrementors is committed to its unique mission and clear vision to achieve supreme goals with ethical SEO strategies. At Incrementors, we work side by side with our clients, providing them with training, mentorship, and informative videos to enhance their business growth. Our experienced professionals are adept at delivering outstanding results, tailored to our clients' requirements.
We invite our clients to fully understand our workflow, and we welcome their input at any stage of optimization or customization.
Our SEO experts design top-tier strategies for your company to secure dominating positions in the rankings. Unlike other agencies, when you reach out to us, you're not passed on to a random representative. At Incrementors, Wyoming, we assign a dedicated manager to you, ensuring seamless communication from inception, COMPLETING THE TASK WITHIN THE AGREED TIMEFRAME.
These are the reasons why our clients believe in us:
OVER A DECADE OF DIGITAL MARKETING EXPERTISE
Since 2012, Incrementors has established its presence in the industry, having served a multitude of clients in Wyoming. Our trajectory has been impressive. Providing superior SEO services to our customers has earned us accolades as the finest SEO agency and one of the top 10 Most Reviewed SEO companies in 2021. Additionally, we've been acknowledged as one of the fastest-expanding firms and the most inventive companies in 2022.
TOP-NOTCH SEO PROFESSIONALS
Our ensemble comprises adept marketing connoisseurs with extensive experience, seasoned coders, and creatives, all committed to achieving peak results for our clients. Globally lauded for our unique and innovative concepts and results that have revolutionized businesses and lives, we stand out in Wyoming.
TAILORED & BESPOKE SOLUTIONS
Unlike other agencies, we're committed to delivering our SEO services in Wyoming, USA, tailored to our client's specific needs. Thus, Incrementors Web Solutions stands as a digital marketing agency specializing in crafting personalized strategies for our clients from diverse business sectors, amplifying their digital footprint.
TRANSPARENT FEEDBACK
At Incrementors Web Solutions, we take pride in offering precise, thorough, and transparent reporting to our clients. We are convinced that our clear-cut reporting equips our customers with the facts and understanding they need to make educated choices and witness the outcomes of our hard work. For our SEO services in Wyoming, there's nothing more crucial to us than the triumph of our clients.
WE'RE HERE FOR YOU 24/7
We're ready to help whenever you require us. Our squad of experts is on hand to respond to your questions 24/7. Addressing your issues promptly and efficiently is our chief aim. We're simply dedicated and intent on yielding superior results for your website to ascend in rankings and secure more conversions.
We Are Available 24/7 For Our Clients
We are at your service whenever you need us. No matter what time of day it is, you just have to make a call to us, and our team of professionals is available to answer your queries 24/7. Solving your problems in a timely and effective manner is our primary goal. It is just that we are dedicated and focused on driving better results for your website to rank higher and make more conversions.
ARE YOU SERIOUS ABOUT DOUBLING
YOUR REVENUE?
Claim Your Free 30-Minute Strategy Session
BETTER POSITIONING
What's the use of a website that doesn't rank? We're proficient in pinpointing the areas requiring improvement. Our SEO specialists in Wyoming apply best practices to boost your website's ranking. After all, 53% of traffic stems from organic searches, so appearing in search results is key to driving more traffic to your site.
INCREASED VISIBILITY
Securing a higher rank is the initial step, followed by attracting traffic. If your website ranks well, it's likely to draw more potential visitors. With our Wyoming services, we can elevate your website's position in the SERPs, leading to a surge in site traffic.
GREATER LEAD GENERATION
Top-ranking websites are seen as trustworthy and credible. People are naturally drawn to them because they rank high. SEO plays a pivotal role when the offered services yield tangible results. The efficacy of your website in attracting and convincing visitors to engage with your services is key.
HIGHER SALES & REVENUE
Ultimately, if every webpage is well-optimized and provides valuable information, it'll invariably lead to increased sales and revenue. SEO can enhance your site's ranking, attract more customers, and compel them to purchase your products or services by providing them with the information they need. We've already generated over $7.5 million in revenue for our U.S. clients and aim to double that in the near future.
ENHANCED BRAND RECOGNITION
Employing the best SEO strategies will undeniably foster brand awareness. Inform existing customers about new products and educate newcomers about how we can create a robust, high-ranking website.
Need any sort of help or guidance? Here's a win-win situation!
Tired of reading long PDFs? Are you a quick action taker?
Use the tool below to audit your website and start fixing it within the next 5 mins.
ELEVATE YOUR POSITION IN THE RANKINGS BY PARTNERING WITH US!
In the current competitive landscape, every business aims to outperform and draw more traffic. That implies you need to keep one step ahead to let your website shine brighter than the rest and hit the pinnacle. To accomplish this, you must surpass your rivals with potent SEO techniques provided by us. We're here to elevate your organic rankings and amplify your traffic and sales. With over a decade of expertise and a proven success history, Incrementors of Wyoming is here to assist you in scaling your business to the summit.
Together, we can realize your business objectives! We understand that each business is unique, which is why Incrementors is adept at providing personalized SEO services in Wyoming. We have assisted thousands of clients with superior SEO services right here in Wyoming. With our team of highly skilled professionals, we assure you of top-tier services to claim that coveted #1 spot. You voice it, we implement it! We're proficient in delivering the desired outcomes within the set time frame by employing bespoke strategies aligned with our client's needs.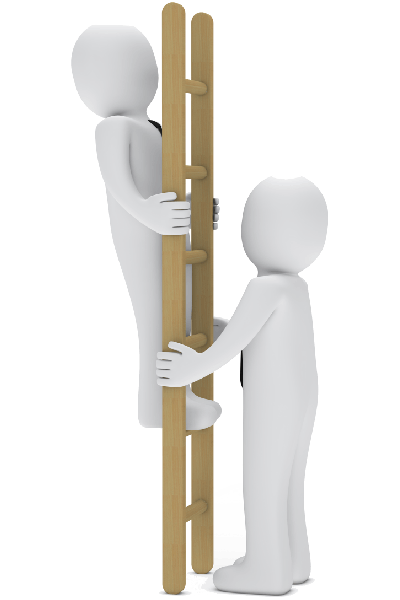 Your Vision Is Our Mission
Services We

Offer In Wyoming,

USA
"While looking for someone to implement SEO for me, I came across Shwetabh on Upwork with Incrementors. I preferred them because of the existing work he had done and the proven results he had, which were quite remarkable and what piqued my interest. The results that he had were quite impressive, and what I found noteworthy was that many of the competing suppliers merely gave me the data they had. The other reasons include the implementation work itself, the cost, and the fact that they're hands-on. It was impressive to see how they applied their SEO expertise, which involved a lot of backlinking efforts, identifying key keywords, and a lot of specific topics. They did the work, and they did a fantastic job at documenting everything with lots and lots of spreadsheets, analyzing all the numbers, and tracking increases throughout while staying up to date with the Google algorithm modifications. Overall, I had a high standard of service, and I would highly recommend them."
"I've been working on SEO for my website Learnbrands.com with Devendra at Incrementors for more than a year. Working with Devendra (SEO expert), I have seen significant increases with all of our keywords. In addition to improvements in actual SEO, some of the biggest improvements I saw were keywords that were ranked in the 30s or 60s on the SERPs moving up to the one, two, and three spots. We continue to work on more and more keywords and see improvement in everything. With his great help and expertise, he produces rich results for my website. Very well coordinated through email communication, transparent reporting, and much more. I appreciate their efforts and strategies. Great job, and highly recommended SEO experts and company."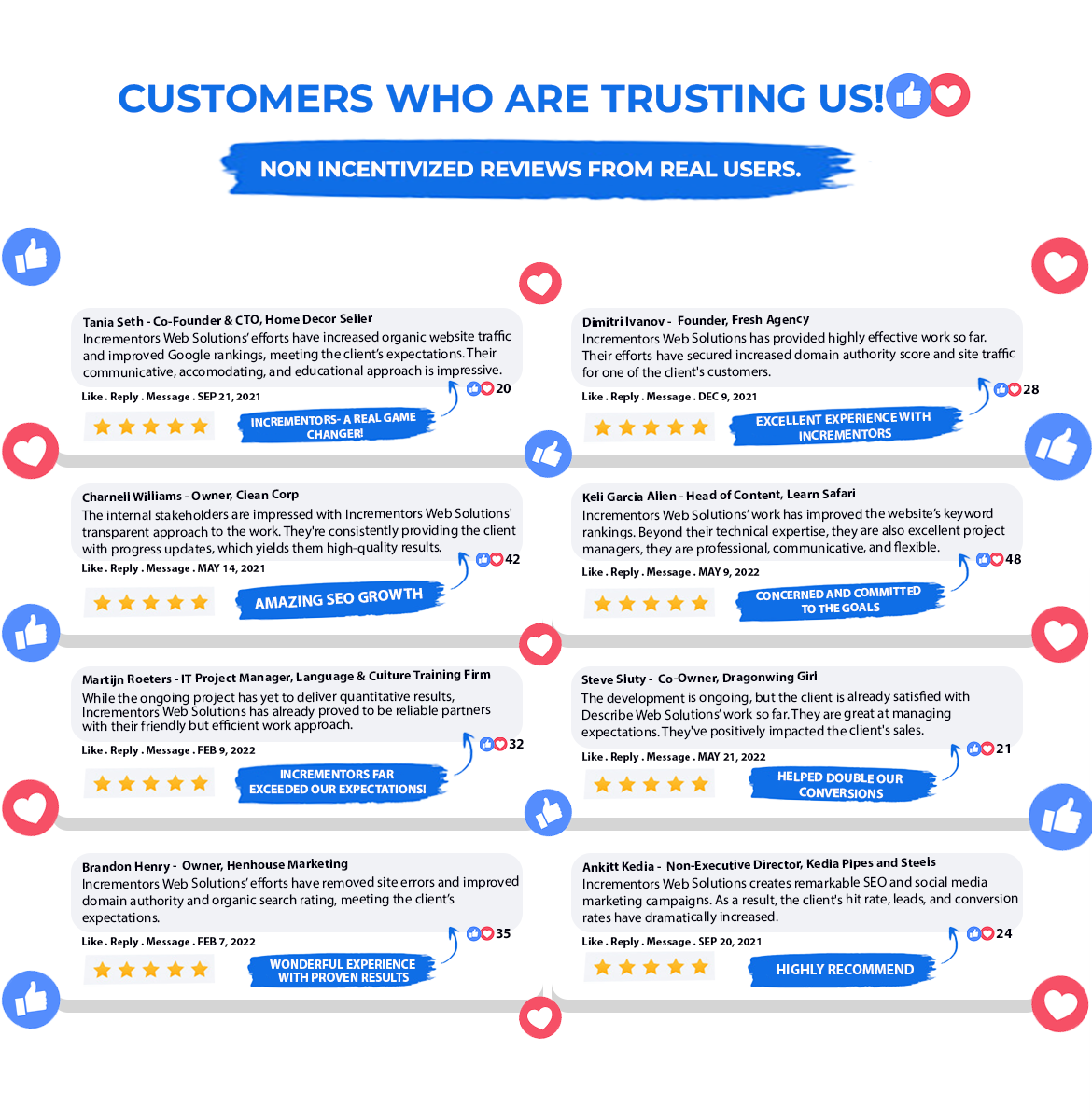 We Will
Get Your Sales Call

Higher

Incrementors Web Solutions
1309 Coffeen Avenue Ste 1200
Sheridan, WY, 08053 US
Phone No.+1 3072010060
Working Operation
Open 24/7
---
Monday :- Open 24 hours
Tuesday :- Open 24 hours
Wednesday :- Open 24 hours
Thursday :- Open 24 hours
Friday :- Open 24 hours
Saturday :- Open 24 hours
Sunday :- Open 24 hours
Contact us if you are serious about doubling your revenue.