You can enhance your digital presence for free! On a platform with 2.7 billion active users. Sounds like a dream plan? Well, it is right there in your hand. Take out your phone and set up a Facebook business page.
Every business person, from small businesses owner to well-established firm CEO, should have a business page on Facebook. Here, with this guide, I'll walk you through all the important details you need to know before you get started with your Facebook page.
To begin with.
What Is A Facebook Business Page?
A Facebook business page is a freely available web page offered by Facebook to enhance and support businesses with their digital presence.
With a business page, you are in control of your business's exposure on the most extensive social media platform. Your page helps you to engage with customers and nurture leads.
Benefits Of A Facebook Business Page
Once you create a Facebook business page for your company, there are multiple ways you can use it to get your business ahead. You are getting a potential audience in thousands if not more, Why not make the best out of the opportunity? Below I have listed some very basic but crucial benefits that a Facebook business page can be employed to:
Putting Out Contact Information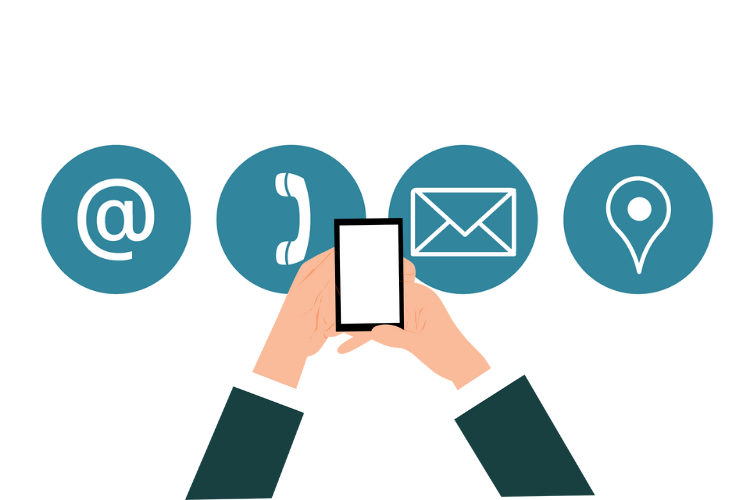 Anyone can visit the Facebook page if they have queries whether your phone line or business will be open. Visitors might also want to know your location if you are a shop manager or if you offer services from a distant device. A Facebook business page is a one-stop-shop for putting out all the information.
Engagement
Engagement is the key element to maintain stability for your online business. Even your regular customers need consistent updates from your brands to stay connected.
Now the question arises what can keep them hooked with you putting extra efforts from your worked-up life?
The simplest answer is behind the scenes. People are curious to know what goes into the preparation stages before the final product comes to them.
Just click images of your team, process, and work-life behind that shining website of yours and build an emotional connection with your audience.
Audience Analysis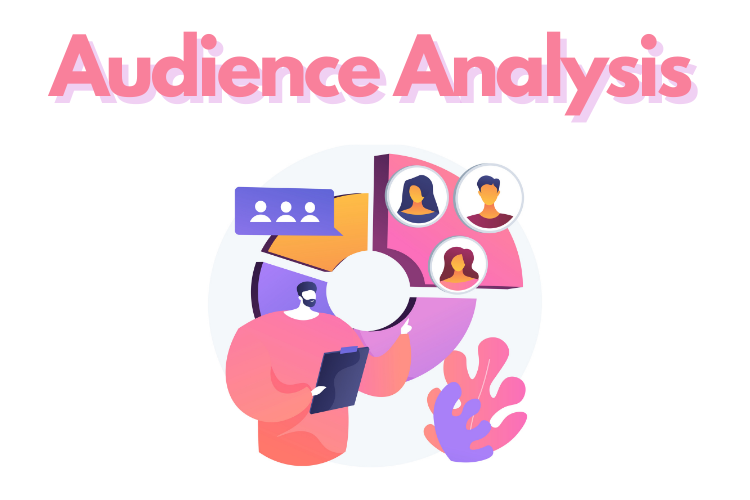 Once you start posting consistently on your Facebook business page, sooner with the insights you get to know what your audience likes, what works for them, and in which direction you must move to keep them happy.
Moreover, Business Facebook contains inbuilt tools to identify your audience's demographics. This data can be considered as an important factor to focus on updating your further marketing campaigns and make them comprehensive.
Reduces Marketing Expenses
Creating and getting started with a Facebook business page is completely free. while a few extra marketing and analytics tools Facebook offers are fairly cheap as well.
Including a Facebook business page within your marketing strategy can be a budget-friendly approach to target a crowd of millions if not billions.
Crazy figures, right?
Increases Website traffic
Linking your Facebook business page and company's website can drive greater traffic to your website. The more people you access your website, the greater the odds of reading the detailed information about your products and services. And while visiting your website might as well buy something.
Read More: SEO vs Social Media
How To Set-Up A Business Facebook Page?
Step1: Create your Facebook business page
Before you begin creating your Facebook business page, you must understand the basic difference between a Facebook profile and a Facebook business page Often people confuse between the two.
Facebook profiles are meant for individuals whereas Facebook business pages are for public promotions. Now you must think that you can create another Facebook profile only for business purposes but that can't be the case because creating a business profile is against Facebook's user terms.
To get started with your Facebook business page, visit facebook.com/business/pages/set-up
Step 2: Follow Facebook's On-screen Instructions
As soon as you click on Create Page you will be asked which type of page you wish to create a business page or a community page. Pick the business page option, you will be redirected to the Facebook login page to log in with your personal account, simply fill in your details.
You need your personal profile and the on-screen instructions for creating a Facebook business page. Facebook will ask you for details like the name you want for it, the category the page falls in, the page description, and the name, location, and contact details of your company.
Make sure you add maximum content so that your page can be easily identified and your business can be found by your audience. You also get to see how your filled details will appear as a final product on the right pane of the window both in desktop and mobile versions.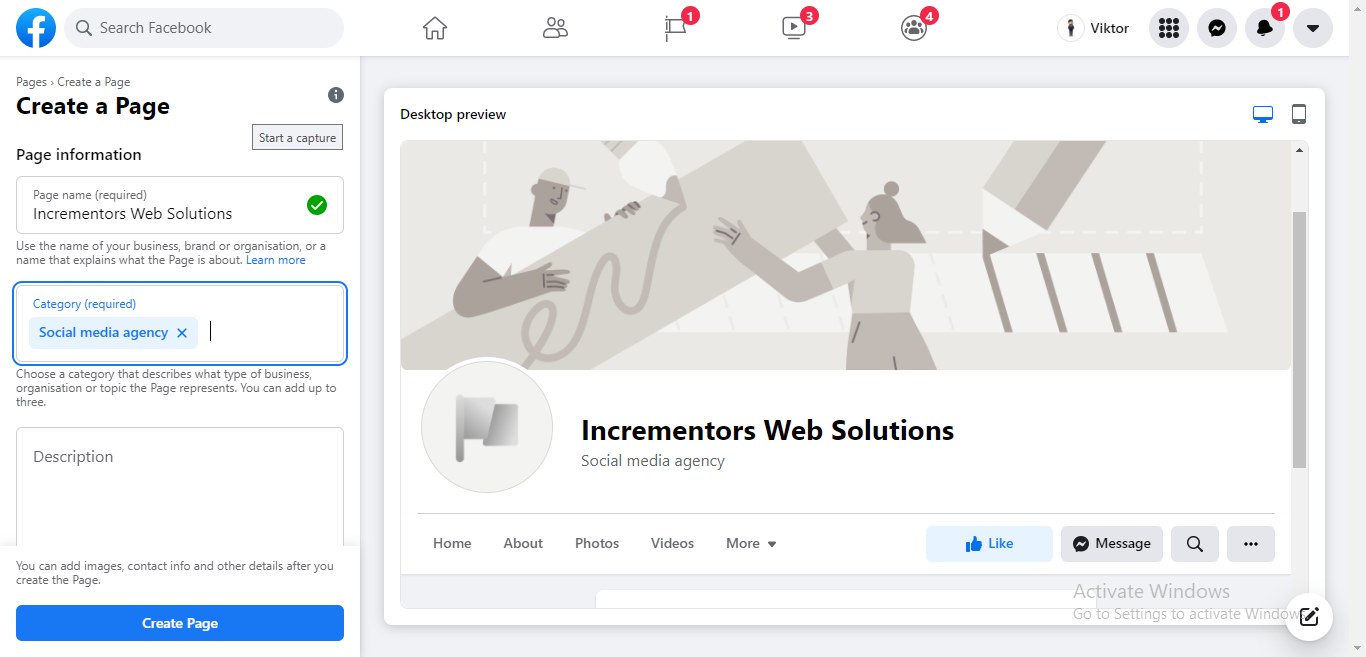 Step 3: Set Up Page With Images
You need to fill in the details about your organizations and create the page first before you start adding images and visuals to it. Once you smash the create page button you unlock yourself other options to add in the images!
The Facebook business page offers you the space to add a profile and cover picture just like your personal account. You can make the most of this by using appealing visuals and contributing to greater content participation rates.
See here! Do you see the difference that just adding an image can bring to a nah page?
Step 4: Link WhatsApp (Optional)
Facebook offers you the facility to link your Facebook business page with your WhatsApp account. You can connect your Facebook page with a WhatsApp account if your business needs it in just a few clicks.
At this point you are more or less done with setting up your page, Your Facebook Business Page is LIVE!!! Now it is in your hands and creativity how you leverage your target audience with detailing your page sections.
Step 5. Fine Tune With Appropriate Page Sections
If you scroll through your Facebook business page you will notice various sections where you can add in some details for a new visitor to know you better but don't get overwhelmed. It is okay to leave a few blank, not every part is appropriate as per your business needs.
Fill out as many areas as possible on your Facebook business page to keep your audience updated and engaged. Let's take a look at a few sections all the business owners must include within their Facebook business page irrespective of the type of business they have.
About
One of the most essential sections of your Facebook business page is the About section. You must add your business details, niches, contact details, location, address, working hours, and website URL under this section. Make sure you don't leave this section blank as your potential customers might not find any way to contact you despite being interested in your services.
Community
The community section within your Facebook business page is a spot where your audience can engage and learn about your organization. Customers can post feedback, reviews, images, and videos here and they can be a good measure for you to earn customer loyalty without spending too much. Customers may also check in to your store from this page. This is an excellent place for your audience to engage and learn more about your organization.
Events
This feature allows you to build your own event pages to announce upcoming events. With a Facebook event page you can invite people by sharing relevant details about the what and where of the event.
Info and Ads
This section is intended to provide transparency to your page. It displays any Facebook advertisements that you are currently running to your followers.
Offers
In this section, you can publish discounts or deals. This is a simple technique to get people to visit your Facebook page. This is your place to Inform customers that they enjoy your page and may get a bargain on it.
Posts
All of your posts, including timeline photographs and updates, are shown in this area.
Reviews
Customers might post reviews and specify whether or not they would suggest your service under the Reviews tab. Ratings are shown at the top of your page. Although you have the option to remove the Reviews tab, you may not want to because it gives essential input to both you and your followers. Reviews offer to validate your brand and make it simple for customers to promote your products or services.
Services
With this, you can promote your services. You may also provide details about your specialty, such as a photo, a description, and price.
Just look for the right sections to compliment your business and give it a go! Here is how my Facebook business page looks like with the added sections I mentioned above.
The Do's And Don't's Of Your Facebook Business Page
Facebook Business Suite
Facebook business suite is Facebook's own management platform that allows business owners to manage their digital presence on both the platforms- Facebook and Instagram. At present Business Suite offer facilities like: Posting, Messaging, Advertising, Insights. The essential requirement for using Facebook business suite is that you need to connect your Facebook and Instagram accounts.
The Facebook business suite makes it easier for you as a business owner to stay connected with your customers on Facebook as well as Instagram without any third-party application hassle.
This means Facebook business suite can be your one-stop solution for accessing all the relevant tools to keep a check on your insights performance and engagements.
Another feature that your Facebook business suite offers is post scheduling. Now you can stay active among your Facebook as well as Instagram communities by creating a new post and scheduling the publishing time as per your audience and see what performs well for you and whatnot. The business suite is at your rescue to maximize your social visibility and efforts!
Just like Facebook, its business suite is also available for both desktop versions and mobile applications. But to get started with a business suite and use it to its full potential you need to connect your Facebook business page with your Instagram business account.
This is how your business suite section looks like when you visit your page after setting up.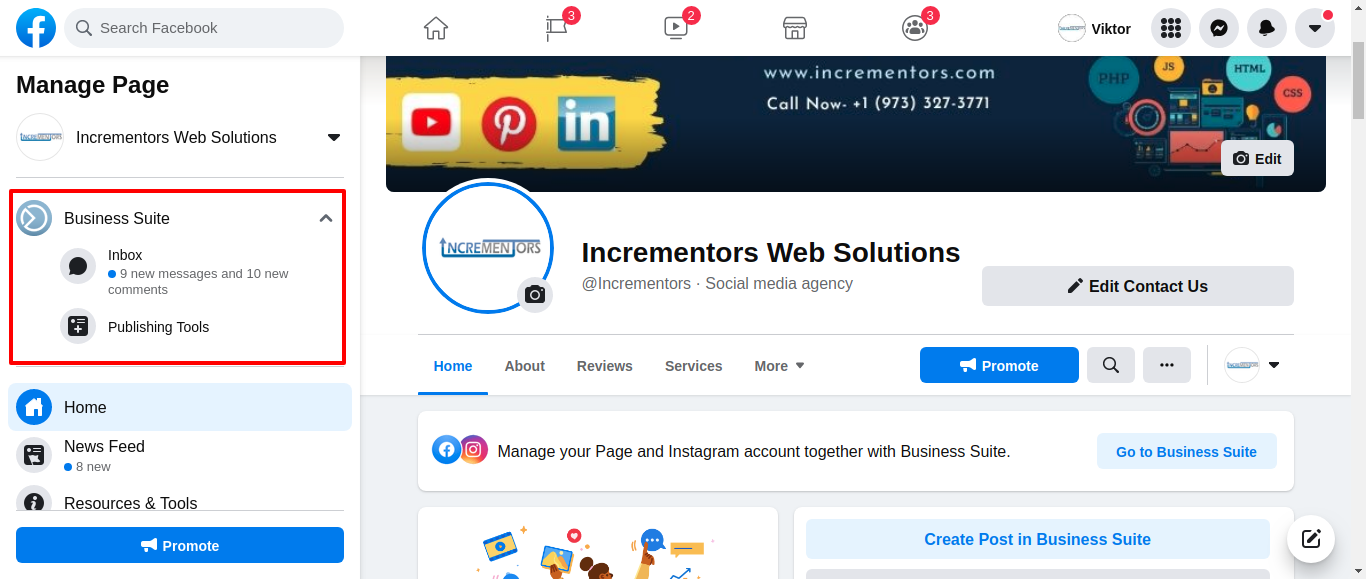 You can explore the wide range of options and functionalities once you go to the business suite and a dedicated window for the Facebook business suite appears. Your home page is the first thing you see. Then there are multiple tools offered on the left pane to help you manage your social presence.
How To Connect Instagram With Facebook Business Page?
To explore the wide range of functionalities within the Facebook business suite, you must connect your Facebook business page with your Instagram Business Account. Here are a few simple steps to get this done:
Step 1: Open your Facebook Business Page and look for the settings option in the left pane.
Step 2: Under the page setting, look for Instagram and select it.
Step 3: Click on Connect Account.
Step 4: Fill in your Instagram username and passwords to log in.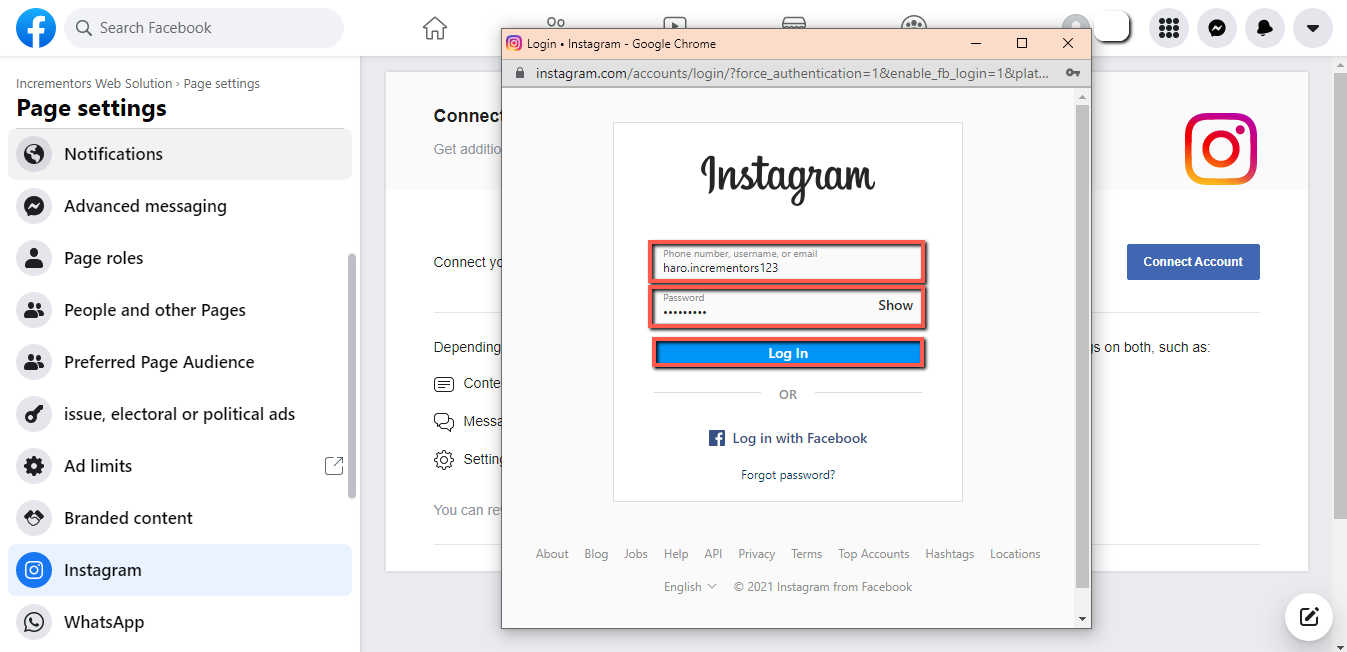 Step 5: Click Continue a few times along the walk-through content.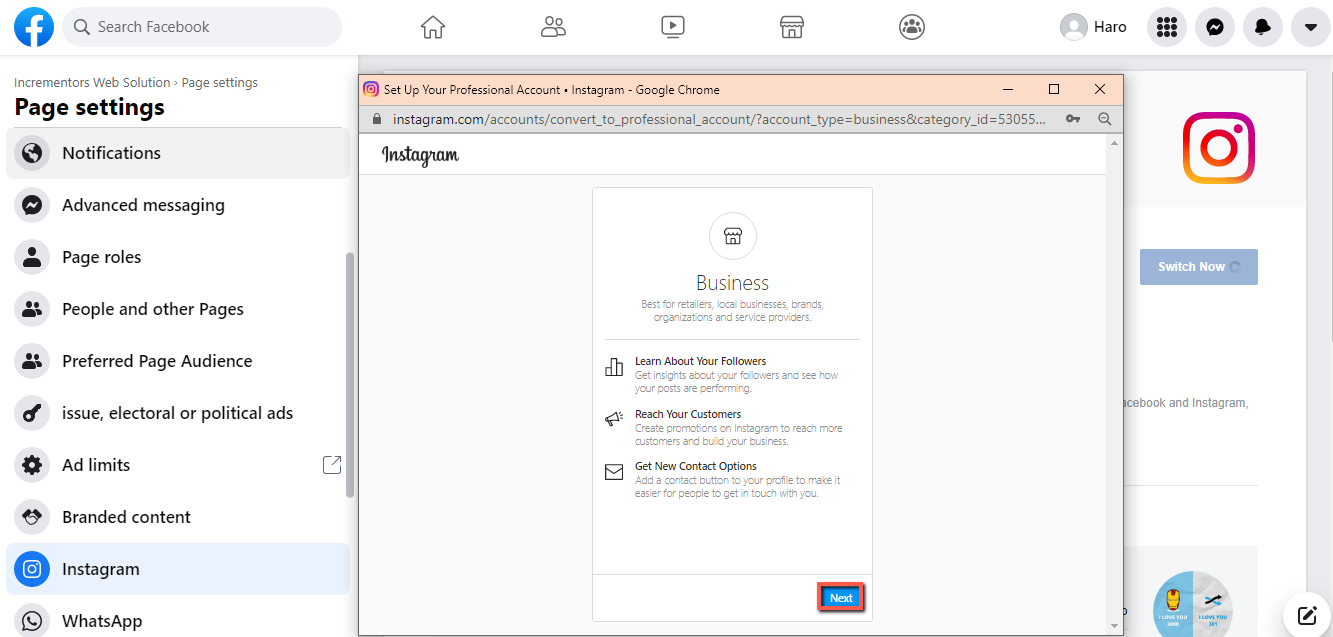 Step 6 : On the completion message, click Done.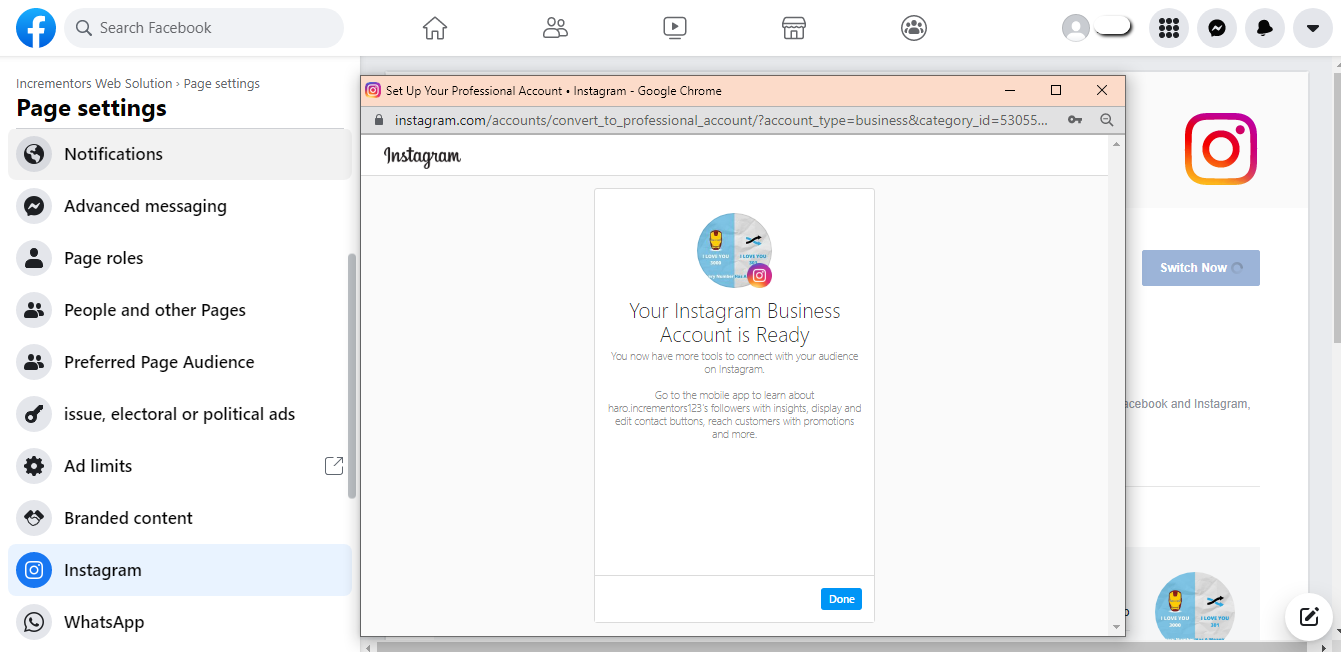 Step 7: And you have successfully connected your Instagram account.
Features Of Facebook Business Suite
You get a whole hub in your hand in the name of Facebook business suite. You can simply toss away all the third-party applications that you ever used to manage the post scheduling, or generating insights, or calculating engagement and the list goes on, for every little analysis you use to run for a new app or tool. NOT ANYMORE!
Let's look for features one by one.
Home
This is the first page you come across after opening business suite. Here you get an at a glance view of your page along with the notification and latest updates. You also see brief details regarding the insights and latest ad activities.
Unified Inbox
This section allows you to view all the received messages via your Facebook messenger, Facebook business page, or Instagram account all in one place.
You can also set up auto-responses for frequently asked or repetitive questions regarding your products and services.
To set up an automated response:
Go to Business Settings
Select Automated Responses option
You have a lot of options to set up auto-responses covering a lot of regular scenarios business pages might come across.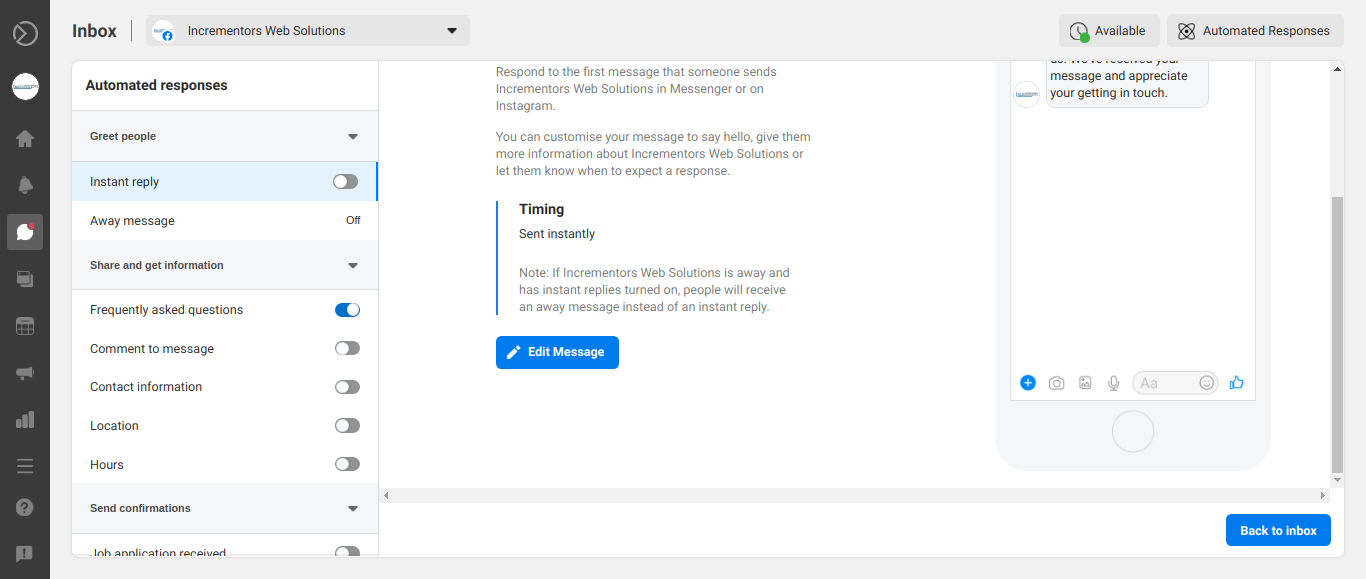 Posts and Stories
This section of the Facebook business suite allows you to create, publish and schedule your upcoming posts and stories for your Facebook business page and Instagram account. You also get a detailed view of the insights for everything that publishes.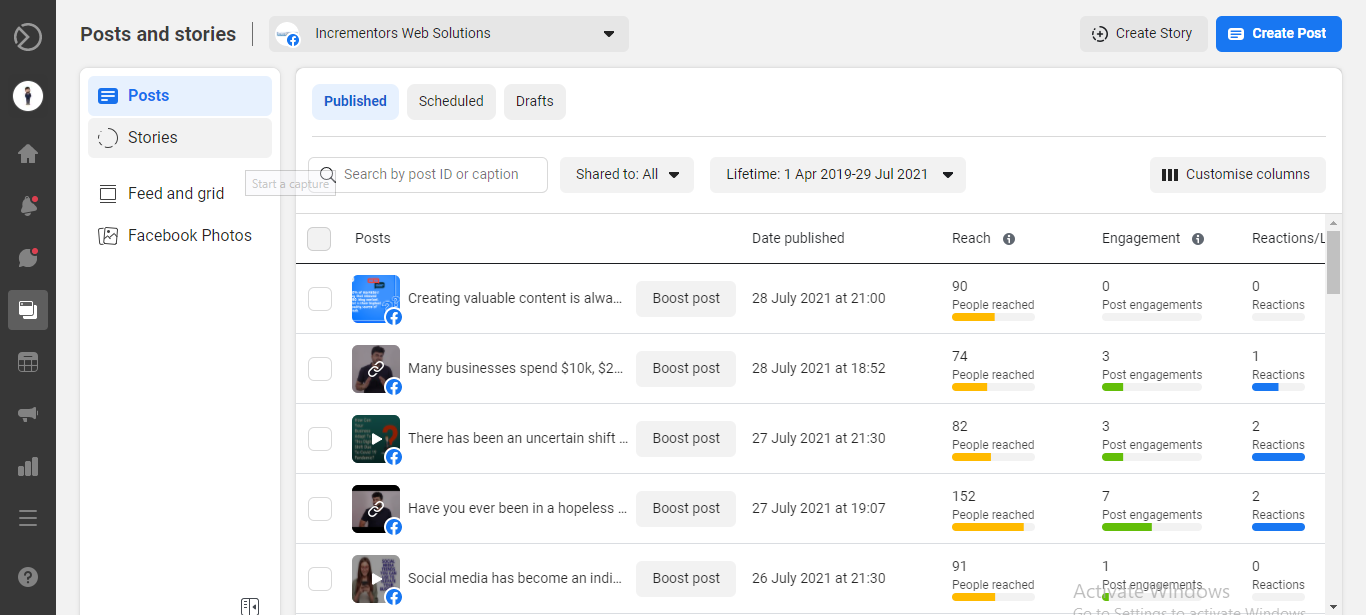 Ads
The Ads section contains a log of all the previous ads that you run on the Facebook business page.
Read More: What is Better: Google Ads vs Facebook Ads
Insights
There is nothing new that I'll mention in this section. I have been talking about this very feature since the beginning. Facebook business suite insights offer a comprehensive report on your performance for individual accounts according to the trends.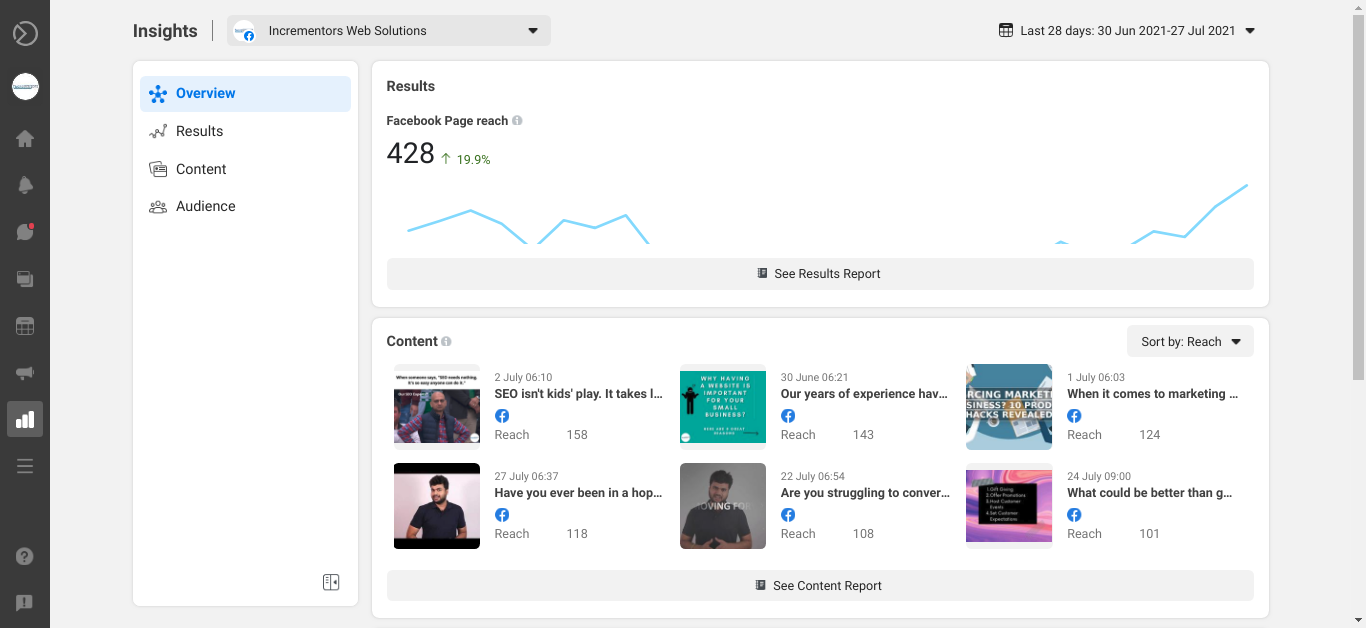 More Tools
This is another wider section for business purposes only. The desktop version of the Facebook business suite provides you with a variety of Facebook tools and features that are great for managing your business's digital presence.
Within more tools section you can find options like ads manager, business manager, billings, audience, event manager and so much more.
What is Facebook Creator Studio?
Facebook creator studio just like Facebook Business Page, is a management tool by Facebook, concentrated on content management. Facebook creator studio also offers the features to manage content, track its performance, and reach relevant audiences which are great for creators and publishers on Facebook. Creator studio mainly focuses and targets video-based content creation and deeper video insights for businesses to have a better and wider reach.
However, besides this, there is much more in Creator Studio for making your content handling easy, such as:
Creating all sorts of content:

Posts
Stories
Cross-Post Video
Articles
Clips
Generating in-depth insights about videos, Stories, and Instant Articles
Manage brand collaborations and monetization details
Access live dashboard and sound collection.
Other benefits of adopting Facebook Creator Studio for content production over Facebook Business Suite include the availability of monetization and brand collaboration tools, as well as the Live Dashboard and Sound Collection. It is uncertain whether these functionalities will be integrated into Facebook Business Suite.
Facebook Business Suite vs. Facebook Creator Studio
The key difference between Facebook Business Suite and Facebook Creator Studio is the
purpose with which they were created.
Facebook Business Suite was designed with a focus on improving business administration and making communication easier across different platforms. Thus the data overview and content creation options are limited, viewing and reacting to community interactions is simpler.
Facebook Creator Studio was created with the goal of producing and organizing content production for various products like stories, videos, and feed articles, as well as providing a more in-depth analysis of some metrics such as video analytics.
When using the Pages Manager App, change to Business Suite. Begin using the Business Suite and get comfortable with it.
If you prefer working on a desktop and are searching for more comprehensive tools and insights, choose Creator Studio as of now. When the desktop version is completely rolled out, it will be interesting to see if Creator Studio is also replaced by Business Suite.
Business Suite is your newest pal if you're searching for an easy-to-use, on-the-go solution for cross-posting stuff and instantly responding to messages and comments.
Conclusion
Many things are changing every day in the world of social media, but one thing's for sure. Turning a Facebook page into a community requires a lot of work and persistence. Everything begins by developing a personalized and helpful page, but continuing with the daily engagement makes a big difference.
Even though you may play a significant role as to how you operate your Facebook page, your brand, visitors, and your market, you can do certain common things to make your business page unique, appropriate, and a favorite destination for your supporters.
Feel free to drop in any queries. Till then keep growing!