You must have heard of the terms SEO and SEM, but not sure how they work together to drive results?
One (Search Engine Optimization) which is a practice that focuses on long term growth and another one (Search Engine Marketing), is that drives quick results… but what about when these strategies come along together, how will these benefit your business? Stay right with us and do not miss anything…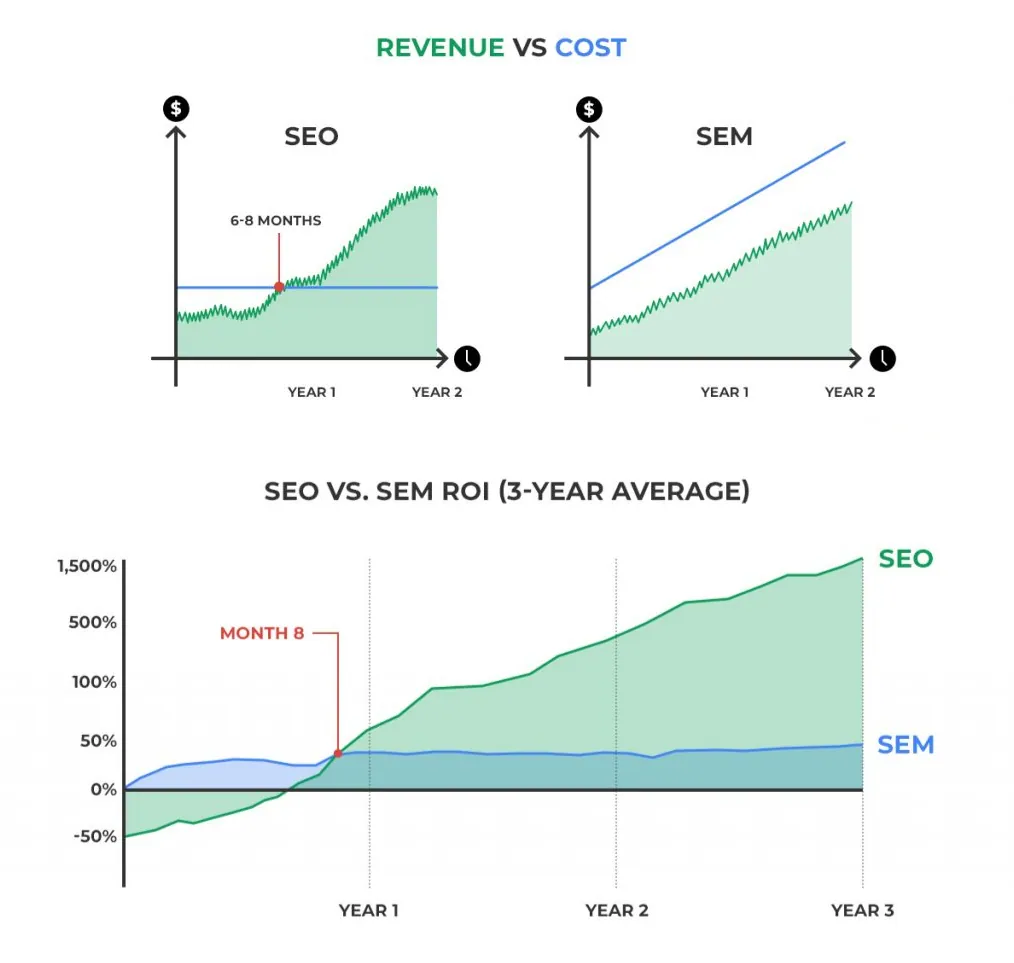 While SEO and SEM are different in driving the desired results, but together, this combination can soar your business to the top of search engine rankings and attract more customers than ever before!
So, don't wait any longer, read on to learn how SEO and SEM can help your business soar to new heights. Let's get it!
SEO vs SEM: What's The Difference?
What Is SEO?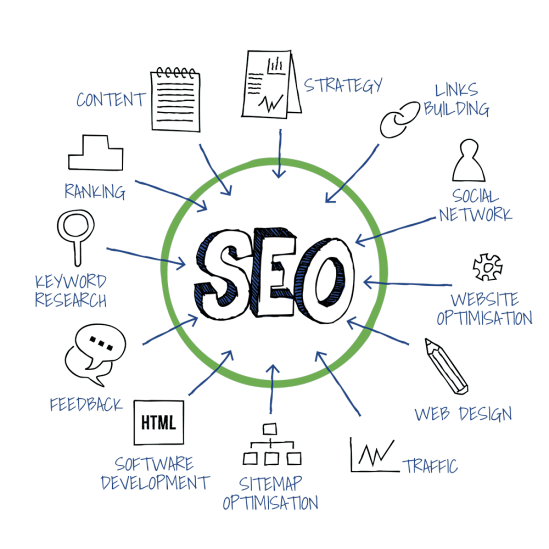 SEO is the practice of getting the desired traffic for your website from the search engine's organic rankings.
If you are making use of SEO practices for your business, then you will have to deal with creating high-quality content for your webpage, optimizing your content for keywords, and building backlinks.
In simple terms, it is about improving the rankings of your website in the organic part of search results.
By using keywords as a mode of ranking in SEO, you can attract huge traffic to your website. If you are businessmen and looking for how to find the keywords that are most useful to have in your website's content, just read jump to "How to Find the Right Keywords for Your Business?"
On-page SEO
Now think about the components of your webpage, such as headlines, HTML tags, and images. You better aim to make them elegant. since they express the face of your website.
This is where On page SEO comes in handy since it deals with the practice of optimizing components of web pages (HTML tags, images) in order to improve their rankings in search engines.
To know more about the on page elements, I've got you "The Ultimate On Page SEO Checklist To Boost Rankings," go get your on page elements optimized right now!
Off-page SEO
Now think about the idea of getting trust and authority signals from other websites. Well, this is part of off-page SEO since it helps you double your DA with high quality links pointing towards your website.
In off-page SEO, you basically deal with components such as brand building, and influencer marketing.
In short, if on-page SEO deals with components inside the webpage, then off-page SEO will deal with components outside the webpage to improve its search engine rankings.
Just sit back and watch this great video if you want to see a big increase in website traffic.
Technical SEO
After having optimized both on-page and off-page SEO, you might encounter certain issues related to sight, if not every time, then at least some of the time.
Here, technical SEO plays its part. In short, it is about optimizing the technical elements of your webpage so that search engines can crawl, index, and render your web pages.
Technical SEO is the behind the screening process of building your website to ensure its authority and smooth functioning.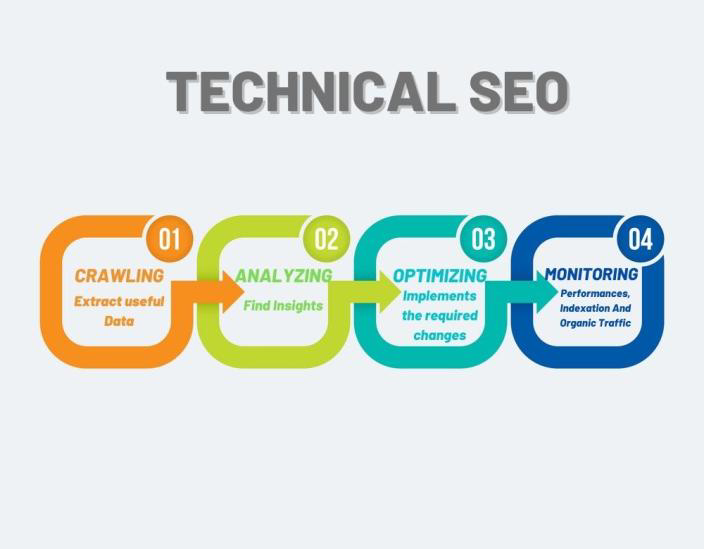 What Is SEM?
Broadly speaking, SEM is a wider term that includes both SEO and other methods of acquiring traffic and visibility from search engines.
These are basically categorized into paid and unpaid methods.
Paid methods denote marketing methods that are paid, the most common of which is PPC (pay-per-click).
While unpaid methods refer to traditional SEO methods such as ranking your keywords in front of Google.
SEM also includes search ads, shopping ads, Gmail ads, and youtube ads.
What Are The Similarities Between The Both: SEO and SEM
By looking at the definition part, you might certainly have a dilemma over SEO and SEM since both appear quite distinct.
Therefore, I suggest that the way out is to understand the similarities between the two. Let's begin:
Improve Visibility: Both methods aim to boost visibility since SEO and SEM both target and optimize the keywords to increase the visibility of the site on SERP.
Driving Traffic: Both methods aim to boost traffic to your website where SEO encourages users to click through your site while SEM generates traffic through paid methods.
A Deeper Understanding of Your Audience: SEO and SEM both help you to get a deeper understanding of your audience. SEO does it through search intent, while SEM does it through SEM marketing.
Testing and Monitoring: SEO and SEM simultaneously require monitoring and tweaking in order to become successful in the long term and deliver a solid ROI.
SEO and SEM: What's The Difference?
After determining the similarities, I'd like to explain the distinctions so that you don't mix them up.
Let's begin by understanding the results section first. By implementing SEO strategies, it can actually take 2-3 months to see organic search results since the competition is high.
This is because millions of people make use of the search industry to find products and services, so the digital marketing industry has gained a lot of competition.
However, in SEM, it only takes a few clicks to see the results instantly when your SEM campaign is live. Your ads immediately show up in the search results.
Secondly, SEO strategies take time to build since SEO strategies add value over time. However, in SEM strategies, this is not the case; if you turn off your ads in SEM, your visibility will cease.
Thirdly, SEM is comparatively easy to test. An ad copy will be revised here, through which you will have the advantage of targeting a new audience. You will also have to change the landing page content for your tasks to work.
Given the nature of the algorithm in SEO which is time-consuming, it does not allow easy testing (of course it does), but it is not as easy and less time-consuming as in SEM.
Fourthly, in SEM, an advertiser pays every time a user clicks on an ad. This is evaluated on the basis of cost per click or cost per thousand, depending on the type of campaign that you have created.
While this differs in SEO since advertisers don't pay anything when a user clicks on the organic listing which ranked due to SEO.
And lastly, did you just notice the ad icon in the SERP results when you make use of SEM? This is a paid placement offered but in the SEO you won't find this icon.
As you can see in this picture, an ad icon has appeared in the SERP while making use of SEM strategies.
Combine SEO and SEM In Your Marketing Strategy
Having understood SEO and SEM, it now becomes vital for you to analyze which one you should opt for in order to derive maximum results.
Well, if you ask, I would rather suggest using SEO first and SEM next, so here's how we will make use of both of them.
In the first place, you need to conduct a preliminary study of the most searched and clicked keywords by product, service, or sector. You can do this by making use of tools such as Ubbersuggest and Google's Keyword Planner.
The trick here is to find keywords that have a high search volume but low competition.
Begin your SEM campaigns to attract visitors by using them. By using them, you can achieve tangible results right from the start.
Also, make use of the above strategies for SEO. Now pay attention, all you have to do is know which keywords are most important and use the information to plan your content.
And by making use of the content strategy, you can build your blogs, website, and social network around these keywords.
Now you must understand that it is not important to add them to your text, but it is important to understand what the users are looking for and how you respond to their needs for quality content by using your strategies.
Conclusion
SEO and SEM are powerful strategies for any business looking to increase their online visibility and drive more traffic to their website.
By optimizing your website for search engines and using paid advertising, you can reach a wider audience and generate more leads and sales.
If you're interested in learning more about how SEO and SEM can benefit your business, we invite you to book a 30-minute strategy session with us.
During this session, we'll dive deeper into your specific needs and goals, and come up with a customized plan to help you achieve them. Don't wait, book your session today and start seeing results!