Congratulations on taking the first step towards transforming your business.
You have landed on this article, you must be making an attempt to find advanced marketing strategies for your e-commerce website or want to know how to optimize your store to rank in top Google searches.
In this expert-written guide, you will understand how to generate more leads and customers for your ecommerce site, I bet in the next few minutes what you learn will blow your mind.
So, let's start by understanding some easy concepts and then dig deeper into the world of sales and conversion in your ecommerce store.
Why Ecommerce SEO Is Important For Your Business?
Ecommerce SEO works on the visibility of your online store in the search engine result pages. Research tells that around 70% of customers use search engines to find a product and know what others have to say about it before making their decision to buy the product.
Internet gave enormous freedom to the people to choose, compare and most importantly save their time while buying.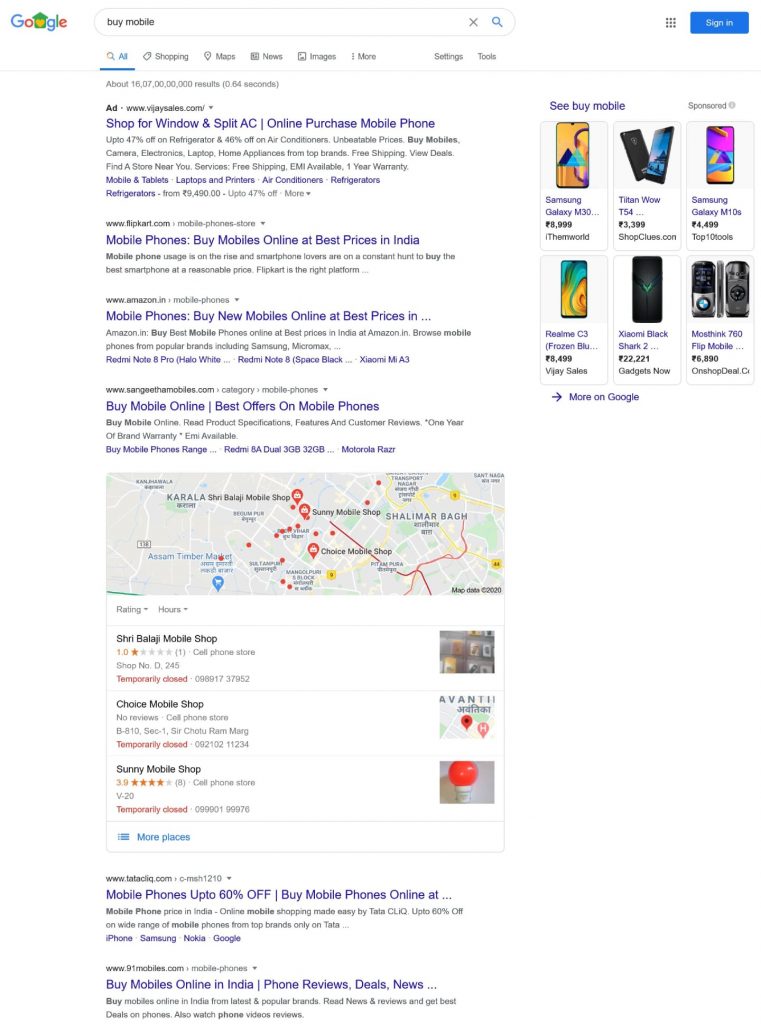 Ecommerce SEO is the process of making your online store more visible in the search engine results pages (SERPs). When people search for products that you sell, you want to rank as highly as possible so you get more traffic. You can get traffic from paid search, but SEO costs much less.
If your store ranks higher in organic results you can get a highly relevant audience to your website. The organic traffic is more valuable for your brand awareness, the customer loyalty holds much value, this helps you boost your brand credibility as well.
In fact, 43% of customers do online research while in the store. Your online store with a low operating cost which is also adding more value to your customers is definitely a win for everyone.
And to win, SEO comes in the role!
How to Develop An Ecommerce SEO Strategy?
If you look for an advanced ecommerce SEO strategy for your business you'll find thousands of results telling you various tips and tricks.
Just pause and ask yourself, what is unique about your store? Who are your customers and what is that retains the interest of the customers? Who knows how to address the target audience the best? YOU!
Before you blindly hop on to yet another ecommerce SEO strategy I'll give you a few steps that you must go through before developing an ecommerce SEO strategy of your own or referring someone else's. Let me explain.
Evaluate Your Pages: Ecommerce SEO can be a massive task, especially when your website already has a lot of products. Look for the pages which drive the maximum traffic or the products you wish to gain traffic and optimize them first.
Design A Workflow: The SEO process takes up a lot of specific steps to meet your requirements such as keyword selection, metadata update, images, etc. You must be clear about the steps that are to be taken after one is done.
Keep An Eye For Competition: Your strategy must be powerful enough to surpass your competitors' expectations. Take notes about what others are lacking in their sites and try to incorporate them into yours.
Effective CRO Plan: When you combine SEO and CRO, you get a versatile plan of action to help you drive conversions and generate sales.
On-Page SEO For Ecommerce Sites
On-Page SEO of Ecommerce for Search Engines & Users
On-page SEO is the key to perfect ecommerce SEO as the buyer's journey starts by searching for a product that leads him to your store to a qualified purchase. Your customers, as well as search engines, must get a clear understanding of your products at first glance. This can only be done by optimizing your meta tags, URL structure, heading tags, and images. Keep in mind that your goal is to get high visibility for more traffic.
Role of Your Meta Titles, Descriptions, H1's & Images, and URL Structures
Meta Titles, Descriptions, H1's & Images, and URL Structure play a very important role. If you optimized them correctly then they can help your business to get to the next level. Without talking much let's go to the technical part of it and how to attract more traffic by optimizing them.
Optimize Your Meta Title & Meta Description
Most ecommerce sites use a formula based approach to their meta tags, which looks spammy, and usually follow a pattern like this:
Buy <Heading/ProductName/Category> Online | BrandName
It's easy to see why some ecommerce stores do this, many have hundreds or thousands of pages. Writing unique titles and meta descriptions can be an overwhelming task.
But here's the thing:
A formula-based approach isn't ideal. It leads to incorrect meta titles and descriptions on a lot of pages.
Now, I know what you are thinking. There is no way you are going to sit and write the meta titles and descriptions of each individual page.
You are right there's just no way to optimize each individual page one by one. So, let's try to understand how to accomplish this task by understanding the core of ecommerce SEO.
Your Ecommerce Site Pages Can Be Classified As Follows:
Category/Collections Pages
Subcategory Pages
Sub-subcategory Pages/2nd Level Subcategory Pages
Brand Pages/Non-Transactional Pages
Product Pages
Since different levels in the hierarchy might contribute to traffic at different levels. It won't make sense to make 1 template and use that for your whole website. Let's see what you can do?
There are 3 different ways to go about optimizing these pages:
Dynamic Optimization (We talked about above).
Manual Review and Optimization.
Combination of Dynamic and Manual Page Optimization (Recommended).
If you have thousands of pages, you can't sit and rewrite all the meta tags right?
So how to save your time? The solution is to put your maximum effort into writing well-optimized tags for the most important pages. Then use a templated approach for the rest.
I recommend doing a manual review for some of the important pages on your site like homepage, non-transactional pages, and some product, category & subcategory pages.
Now you have a meta title & description ready for some of your most important pages. Then study each "set of pages", and create a varied dynamic formula i.e. creating separate dynamic meta tags for product pages, category, and subcategory pages. Let me give you one simple example of Product Page Dynamic Tags:
URL:
https://www.officemonster.co.uk/bookcases/deluxe-bookcase-1200mm-high-with-2-shelves-beech
Page Title:
Get Leading Deluxe bookcase 1200mm high with 2 shelves of oak | Office Monster
Dynamic Code:
Get Leading <Product Name> of <Wood name> | Office Monster
Meta Description:
Office Monster provides an online Deluxe bookcase 1200mm high with 2 shelves of oak products of great quality. Explore our wide range of high-quality products now! ✯ Enjoy Easy Returns ✯ Quick Delivery. Order Online Today!
Dynamic Code:
Office Monster provides online <Product Name> of <Wood name> products with great quality Explore our wide range of high-quality products now! ✯ Enjoy Easy Returns ✯ Quick Delivery. Order Online Today!
Repeat the same process for other types of pages which are category & subcategory pages. BOOOOM! You now have meta titles and descriptions on all your pages just by writing well-optimized tags for some and then repeating that for the rest of the pages of a similar type.
Some Tips To Improve Your Meta Tags:
Optimize Each Product Page For The Focus Keyword
Keep Dynamic Elements Concise And Brief
Your Meta Titles Should Motivate The Customers To Buy It
Review How Your Competitor Titles And Descriptions Are Optimized. Learn From Them And Improve Your Titles
Now, let me explain how you should go about optimizing your H1 Heading Tag. You need to choose the focus keyword as your H1 tag of the page. If this is a product page, you can choose your product name as the H1 tag and category name for category pages. Just make sure that you don't have multiple H1 tags on any page and they are not duplicating with each other.
URL Structure Optimization
I will try to explain this by definition. A URL is known as "Uniform Resource Locator", URLs are read by browsers, human beings, search engines, and software.
So an SEO-friendly URL is the one that contains the attributes of that page. It should not have any random codes. You should aim to give max information about your product via URL itself, information like its category, type, and name of the product. Let me explain this with an example.
Bad URL:
https://www2.hm.com/en_us/productpage.0570002001.html
Good URL:
https://www.nordstromrack.com/shop/Men/Clothing/T-Shirts/Crewneck
If your URLs on your website are something like this, you need to immediately fix this. I would recommend keeping a "Uniform" URL structure clustered into a hierarchical way from top to bottom.
This Is The Best Way To Structure Your URLs:
OnlineShop.com/category-name (category/collections page)
OnlineShop.com/category-name/subcategory-name (subcategory page)
OnlineShop.com/category-name/subcategory-name/subcategory-name (sub-sub category page)
OnlineShop.com/category-name/subcategory-name/brand-name/product (product page)
Now our meta title, meta description & URL structure is ready. Let's move towards how to optimize images on your website.
Optimizing Images (Alt, Size & Quality)
You need to ensure that the images you provide are of high quality and resolution. Make sure images should replicate the product you are offering as this will sustain the customer's trust in you.
Refer to the two images below that show the difference in the quality of the image. Which one do you think will support buyers to make a decision?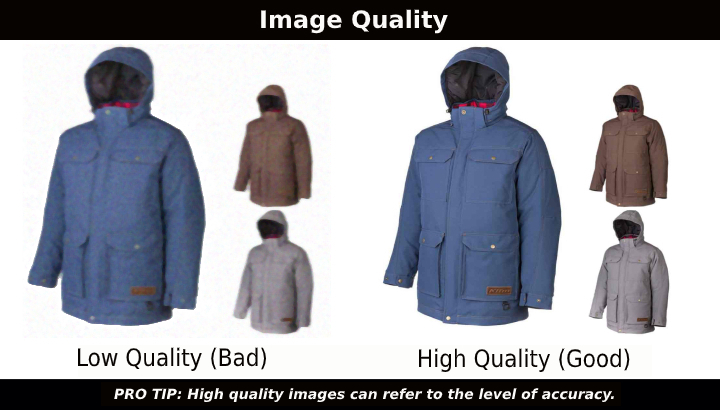 Together with the image quality, you need to make sure that you don't compromise with page load speed. High-quality images tend to have a higher size which takes longer to load. A quick hack around this is to use JPEG images instead of PNG or GIF images because JPEG images can offer high-quality images even with size in KBs. Please refer to the image below.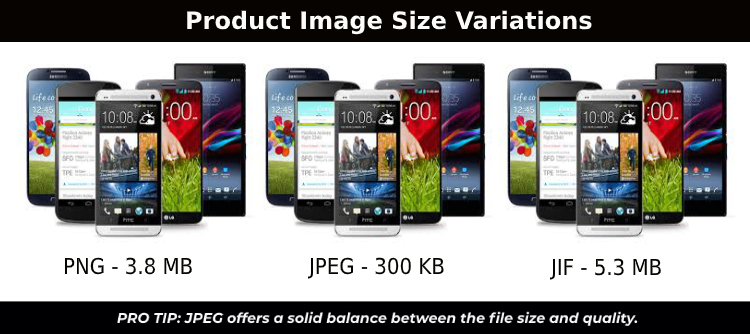 Bonus Tip 🙂
While uploading images you can rename them and add descriptive names to make it easy for search engines to categorize them correctly.
Add a description to the product to give an extensive idea of the product. Use Keywords in the description to make it easy for search engines to find you.
Easy Checkout
"Seven of every ten visitors leave the checkout without buying. Optimize your checkout process to turn more visitors into customers."
Once the customer has selected the product, you need to make it a convenient check out. Customers lose interest in the case of too many steps to check out and the final buy.
The following images show you the most effective way to design your check out.
Connect to Variety of Payment Portals & Make It an Easy Buy
As people are moving towards the online purchase, they ask for complete set up online, from knowing the product to the final payments. It is always advisable to connect the final payment to the known online portals.
Bonus Tip 🙂
All the above-mentioned website enhancements are important but to take it to the next level there are more things which you can do.
Showing Crisp and Clear Shipping & Offer Messages
Showing crisp and clear Shipping & Offers related messages to excite your customers into buying more.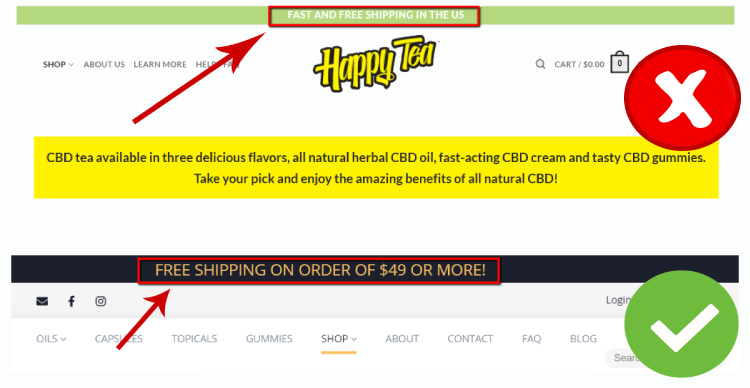 Or something like this

Showcase Reviews on Products
According to a study conducted by GE Capital Retail Bank, 61% of shoppers read reviews before they purchase. According to a similar study from the Acuity Group, 41% of B2B shoppers behave the same — reading reviews before deciding to purchase.
Bonus Tip

🙂
Add the SALE Section!
Who doesn't love a good sale? Some people will buy things they don't even want or need simply because they're on sale.

So, your shop is ready. Next is telling your target audience that your brand exists. You need to reach out to them and show them that you can add value and make their life easy
Without saying much let's talk about the process where we will work on marketing our website to the outside world.
There are some pre-requisite of the market – you need to know your target audience, what they are typing while searching for your product. This is where knowing the right keyword comes into play. Let's Know how!
Link Building for Ecommerce Websites
Advanced Ecommerce Link Building Tactics For Ecommerce SEO
Ecommerce business is all about making connections with your users or other highly qualified websites. When other websites link back to you it sends signals to Google that your website is worth ranking. Link building is one of the best off-page SEO strategies that bring organic traffic to your website.
Here are few strategies you can use to build backlinks for your website:
Go For Guest Posting – Post your content to other large sites that link back to yours as it's an excellent strategy to increase readers and visitors to your site.
Invite Bloggers To Review Your Products To Drive More Site Authority – High authority corresponding to high reliability. In some cases, you might have to ship them your product free of cost so that they could try that and share their experience with the audience of their blog.
Offer Your Content To Other Bloggers As A Resource – It's like a give-and-take process. You can write content and help in saving time for bloggers and journalists. Since you are helping them out with their work you will get acknowledged on their sites.
Create An Account On HARO – HARO, Help A Reporter Out, a well-organized website where journalists send you queries which you can respond to as per your set skills. Once you answer the Journalist's queries and manage to get published in their content, a backlink is promised.
List Out In The Web Directories Of Your Niche – Directories are the best source as it provides a complete list of owners and websites of your industry. So it's like being a part of a group with people from your industry.
Coupon Submission – As an e-commerce website, it is always smart to offer deals and coupons for your users. Connect with websites that list coupons from various e-commerce websites. Getting listed on these websites will not only fetch you a backlink but will drive traffic to your site.
Get Listed Vendor and Partner Sites – As you are selling a product on your e-commerce website. You must be in link with wholesalers for buying material for your product and sellers for selling. Ask these people to talk about you and your products on their sites. This is the double benefit of getting a review and a backlink.
Earn Recommendations – Once you deliver the product, ask your users to recommend you. Just try to enter incredible lists. You can give small discounts to those who mentioned you on their social media accounts. A lot of customers manage a blog or other media to ask them to share their experience of using your product. This also adds authoritativeness to your website.
Top Ecommerce Businesses – Try to Get Listed in Blogs that talk about Top Ecommerce Businesses for example while searching for "Top Ecommerce Businesses in New Jersey" I found these websites and they are definitely good areas to get listed for good ecommerce SEO and traffic. Not just that, it also adds a trustworthiness factor for your store.
https://www.zippia.com/company/best-retail-companies-new-jersey/
https://www.thomasnet.com/northern-new-jersey/e-commerce-services-25421009-1.html
https://www.crunchbase.com/hub/new-jersey-commerce-companies#section-overview
Bonus Tip

🙂
You can ask Influencer websites like Famebit, Revfluence to talk about you and your product by giving them good deals.
To reduce the length of this article as it can become a little overwhelming for some readers we have made another detailed post on How to do off-page SEO for an ecommerce website to learn other important strategies like
Press Release
Social Media Activities
Blog Commenting
Social Bookmarking
Social Sharing
Classified Submission
Infographics Submission
Forum Submission
Video Submission
Q&A Forum Submission
Resource Page Link Building
Local SEO
Getting Link Ideas From Competitors
Broken Link Building
Related: How Important Is Local SEO for Your Ecommerce Site?
Before ending this discussion of advanced e-commerce link building, I want to bring something very important to you. Please use the above-mentioned strategies and other white-hat link-building strategies to create backlinks.
Purchasing links is a strict NO-NO. If you buy links or do something wrong to make quick bucks then your condition can also be like the guy mentioned in the image below.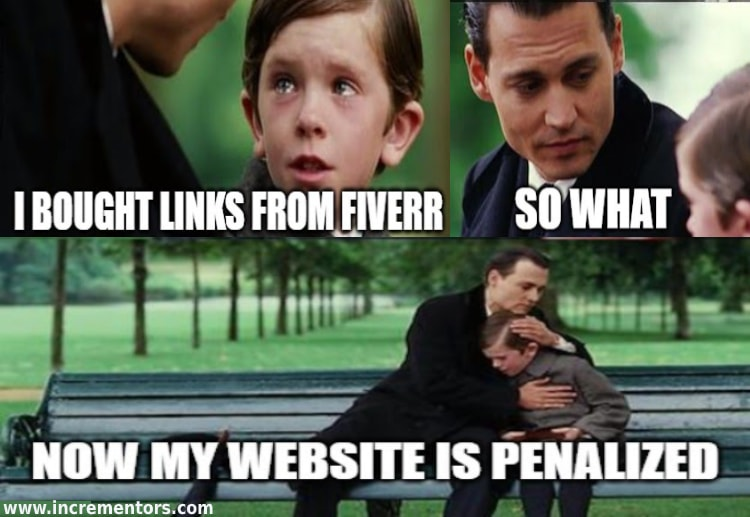 Keyword Research For Ecommerce Websites
Find the Right SEO Keywords for Your Online Store
How will a customer reach your site? An obvious answer is through search engines or paid ads or email marketing but for everything you need the right set of keywords.
For searches, customers will insert a few words or a phrase to gather information or buy the product. So, if you want to be found, optimize your content with relevant keywords.
Keywords are the building blocks of any SEO campaign. Your list of keywords has a direct impact on your Google ranking. So choosing the right keywords for your ecommerce SEO is what you really need to work with.
Here is my previous post on how to find the right keywords for your business.
Don't have enough time to read another blog? Here is a quick summary of the blog:
Identify all the terms related to your business.
Know your targeted audience to decide list of keywords.
Think of all the possible combinations users can attempt to search for.
Add long-tail keywords.
Know your competitor's keywords using tools like SEMrush, Buzzsumo, search metrics.
Spy competitor's keyword strategy.
Check the performance of existing keywords – ranking difficulty, location, trending topics.
Find new keyword opportunities analyzing users' search and changing market trends using tools like Keyword Planner, Ubersuggest, Market Samurai, Long Tail Pro, Google Suggestions, etc.
Filter keywords to create a final list based upon competition and searches.
Bonus Tip

🙂
Focusing on long-tail keywords is a great way of getting relevant traffic. Long-tail keywords are more specific – and usually longer – than more commonly searched for keywords. Long-tail keywords get less search traffic, but will usually have a higher conversion value.
Content Marketing for Ecommerce Sites
The Future of Ecommerce SEO: Content Is the King
Good content is what you simply need to bring to the users as it holds the power to drive traffic to your ecommerce website. Content marketing can give a 6 times higher conversion rate of websites.
Content Marketing Strategy
The average conversion rate of an ecommerce site with decent content can be 3%.
Well, writing good content is what we explain to you here in our Ecommerce SEO blog.
You are already handy with the keywords and phrases that customers might be looking for in their search so all you need is to develop is a good piece of a written blog for the customers to understand the product.
This will help your customers to stay connected with you as blog posts keep them engaging. In fact, blog posts can convert more potential customers into buyers than any other traditional marketing strategy of ecommerce.
After working with industries like furniture, CBD, office products, Apparel, etc. I can say content is the game changer when it comes to growing and marketing an ecommerce business. Not just that it also helps in branding as well.
"Content Marketing has become the catalyst that fuels search and social media activity." – Jim Yu
Bonus Tip 🙂
Video Content for Visual Information
Include links to the product in your blog to make it easy for the customer to jump to your final product and make a buy.
You can even produce a good piece of content through a video that gives clear descriptions and product reviews. This enhances the number of visitors to your website.
Here is a good video example where the product is explained by a video for customers.
And once you are able to reach out to your target audience with good content marketing all you would need is to shout out loud… and tell them, We are open!
I will talk about Guest Posting and other off-page marketing strategies using content towards the end of this article.
Related: How to Search Video for your Content?
Technical SEO for Ecommerce Sites
No website can stand without a strong backbone. And that backbone is technical SEO." — Neil Patel
Site structure and navigation is a way by which users navigate to a product's location. It begins from the main menu to finally navigate you to the final product. Site navigation can be considered among the initial steps to improve ecommerce SEO.
Here, just check whether your website is optimized to make it smooth navigation for the users to reach out to your final product.
Plan Website Structure Carefully
A well-structured website that has all the relevant information on the first page of the website is what really ensures customer's longevity and revisits the website.
So, let me tell you, how it works.
A perfect example of how to structure the navigation menu of your site. Each level of the hierarchy should be accessible without having to jump on a page.
Reducing the conversion steps to reach out to the final product is what you need to target as that gives a good experience to the users and ease to reach their final buy.
Let's Understand What Breadcrumbs Are?
Another important thing is to check the breadcrumbs on your website.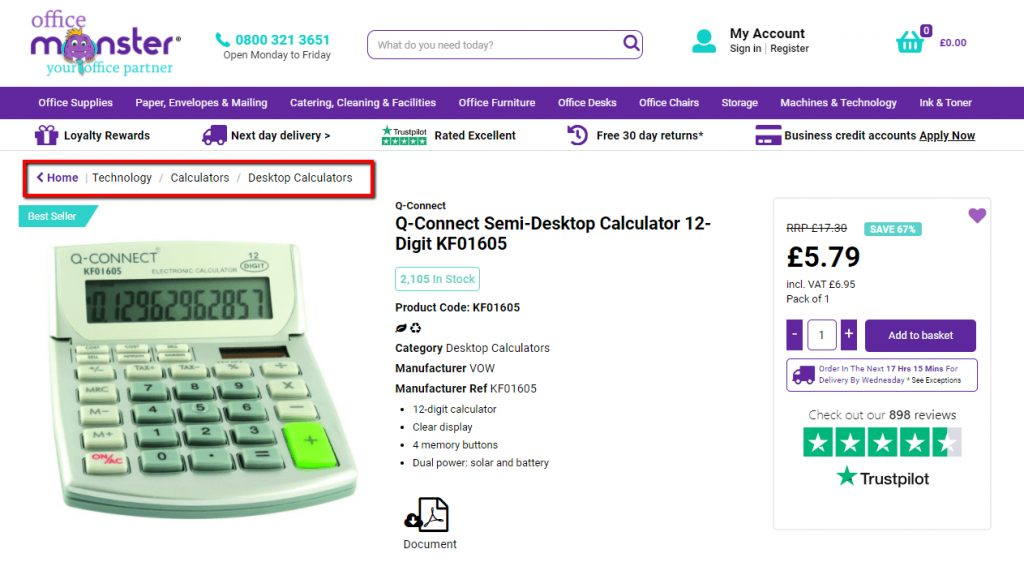 Breadcrumbs in simple words are your menu bar on the first page of your website that navigates the user's location, moving from one page to another and then back to the homepage. It comprises all the categories followed by the subcategories of the products available on your site.
Breadcrumb Structure
A site-wide breadcrumb looks like this. Users can directly jump from bottom level to top in one click.
Breadcrumb Navigation
Breadcrumbs are very important for an Ecommerce site as it focuses on categorization making the site more presentable and easy for the user to search the product. It enhances the chance of people exploring all the aspects leading to a good buying experience.
Measuring SEO Success for An Ecommerce Website
I hope my insights to perform SEO for your website have helped you. But, if you are making efforts, how will you determine if they are results worthy or not?
Even after performing advanced ecommerce SEO for your website, how will you Judge the outcomes?
Let me share two simple ways for it.
SEO tools – Yes, Google provides you some SEO tools like Ahrefs that can help you track the SEO activities and their outcomes for your website. Try them out.
SEO dashboard – Your analytics account allows you to set up an SEO dashboard that analyzes the results of your SEO.
So not just putting in but knowing what you have achieved will be available to you!
Ecommerce SEO: Best Practice Tips
Speed in Ecommerce SEO cannot be emphasized enough. Your bounce rate grows significantly as page load times increase. Work on loading speed.
Increase CTRs on organic search by writing more convincing meta-descriptions. Increasing CTR will help improve your ranking.
Start using ecommerce breadcrumbs to enhance your internal linking and site structure.
Always offer category-level navigation on your ecommerce store
Work on your title tag, try keeping it around 60-70 characters and make sure you include the keyword to grab user attention.
Always build and submit a sitemap and Robots.txt file to Google for scanning and more indexed pages.
Optimize for the user experience. Make your content easily accessible and understandable.
Update your calls to action frequently. Optimize them for specific holidays, promotions, and sales.
Add product names in your meta titles to enhance the user experience by giving the searcher exactly what they are looking for.
Focus on long-tail keywords. They have the potential to drive 20,000 more organic searches per month to your ecommerce store.
Generate a sense of urgency on product pages, you can do the same with the meta descriptions in organic search as well.
Include comparison-based posts, use words like "versus" while comparing products that are trending within the same category.
Always use video content for product demos. Putting in video content on your site can boost SEO and sales.
Contact well-known bloggers in your product niche on reviewing your products. On roundup-style pages, this will get you links quickly.
Begin introducing a guest blogging campaign to increase traffic and backlinks to your website. This will also aid in increasing brand recognition.
Re-do the keyword analysis for each page on your website. Over time, keywords and search patterns shift. Analyze them using Google Trends.
Ecommerce SEO Tools
To stand ahead of the crowd you need to arm yourself with the best tools available in the market. By reading this far you are all caught up with the knowledge and understanding essential to build a successful ecommerce SEO campaign.
I've listed a few of my favorite picks to perform keyword research, backlink information, and a lot more.
FREE TOOLS
Since you are looking for ecommerce SEO you must have a website or been working on one. You will be familiar with how google analytics provides you with analytical records of their visual representations
Google Analytics allows you the measures to keep a track of traffic. The real-time update of reports allows you to have a better understanding of how your goals can be achieved and what factors need improvement.
Are your organic search graphs stuck? Google Search Console is the place for you. This tool helps you to optimize your content by using search analytics. Bottom line this tool provides you with an understanding of how Google actually looks over and ranks your pages.
For any business that wishes to gain visibility online, Google My Business is a head start solution. Google My Business provides any business owner with the facility to create and maintain a profile that displays in Google search results.
You can increase your website's engagement by adding photos, contact details, reviews, and testimonials.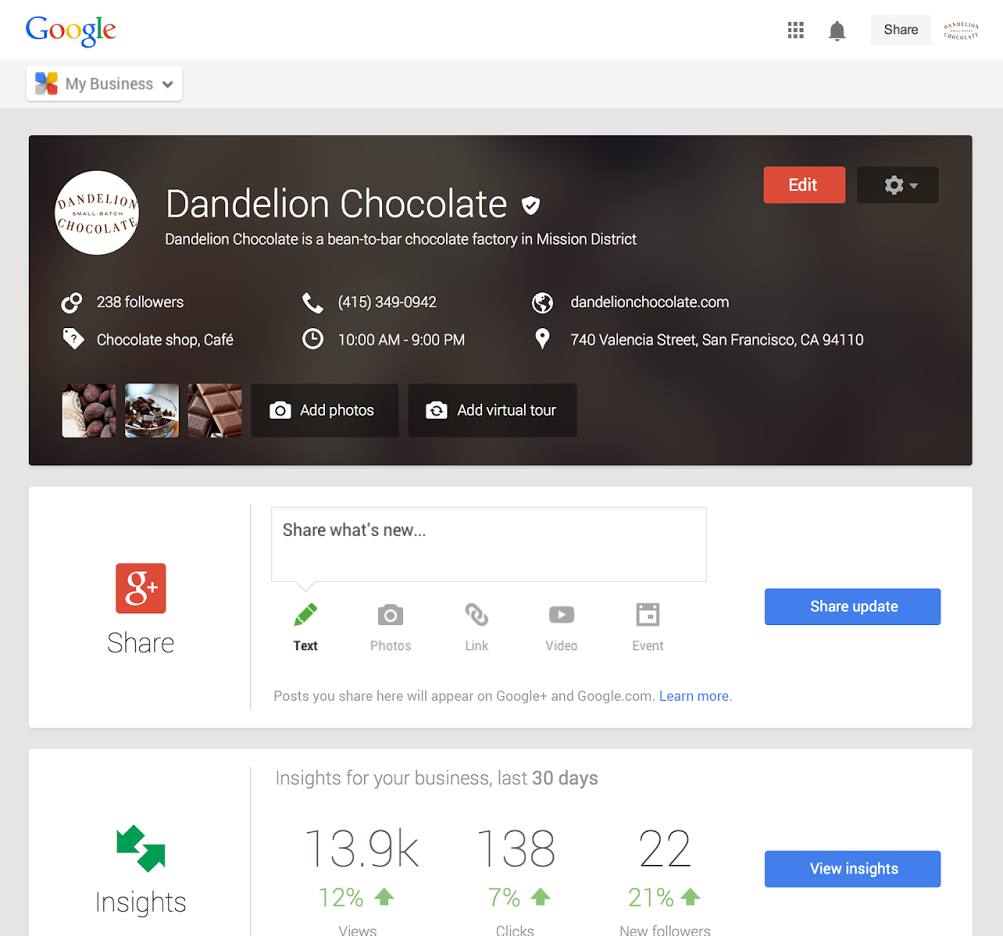 If you wish to do some keyword research or are simply looking for some keyword ideas, Google Adwords provides measures to organic optimization.
Google Adwords Keyword Planner can help you with a list of similar phrases or related search keywords with their search volumes.
Google PageSpeed Insights API as the name suggests gives you a data-driven report on your every page performance. Further, it also helps to debug any issues that may cause any harm to the page speed. You must use Google PageSpeed Insights regularly to ensure that the website loads quickly to display results.
This versatile chrome extension checks on-page SEO for redirects and broken links. SEO Minion also uses a SERP preview feature to assess the website's expected rankings. This platform offers a detailed view of organic searchability with advanced settings and multi-location SERP views.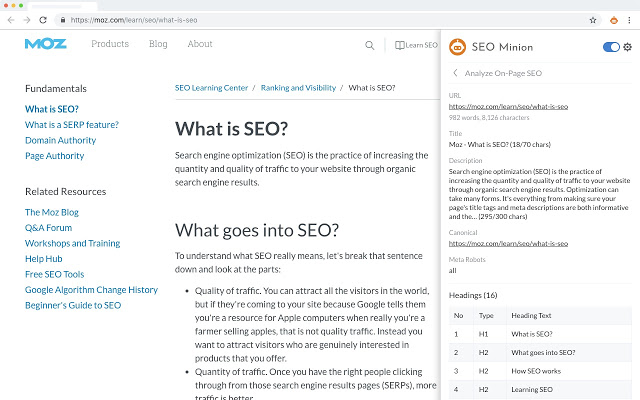 PAID SEO TOOLS
The Screaming Frog SEO Spider Tool is a desktop plugin that offers a range of features and plugins to determine the SEO wellbeing of your website. Following a crawl, the export would contain information about core elements such as title tags, alt tags, and 301 redirects in an Excel doc for quick review. The knowledge provided by Screaming Frog Spider Tool is incredibly useful in assisting you to preserve your store.
SEMrush is a comprehensive marketing tool that provides SEO, paying traffic, social media, and content/PR research software. The SEO tool gathers keyword data, anchor text, backlinks, ranking location, and other information to provide you with a complete picture of your organic footprint.
Moz Pro Keyword Explorer employs a specialized algorithm to assess keyword complexity based on page/domain level, page/domain authority, competitors, current rankings, and other variables. It also compares keyword complexity and provides a new take to other keyword recommendation tools. Keyword Explorer is a wonderful value as part of the Moz Pro SEO suite and enables companies in determining which keywords to target.
Moz On-Page Grader is among the best SEO software for content optimization. Based on the chosen keyword, this on-page comparison method scores the consistency and significance of a given URL. The report card gives a letter grade to your URL and shows actionable suggestions to increase the page's content.
Moz Pro-Link Explorer's extensive link index assists you in developing strong plans, tracking development, and identifying useful link prospects. To prioritize the links crawled by this app, a machine learning algorithm that mimics Google's index is used. Evaluate link profiles quickly, track Spam Ranking, and create a link monitoring list to track links over time.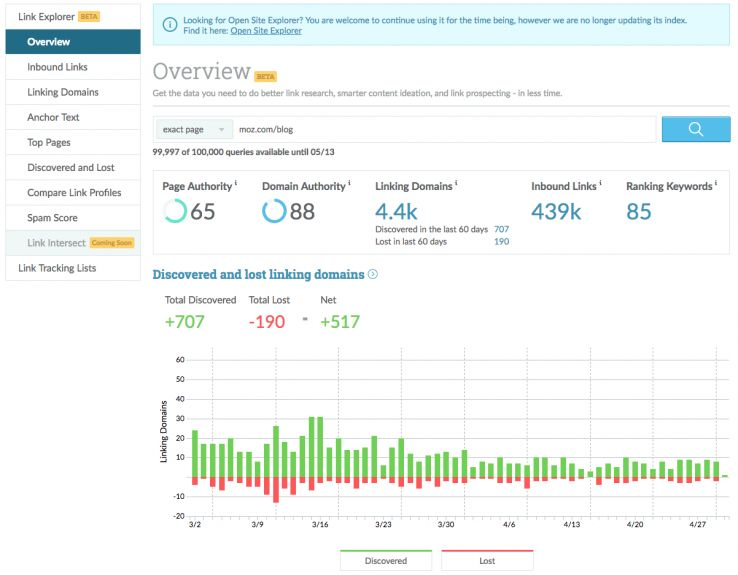 Ahrefs is a popular analysis tool in the universe of digital marketing, being used by companies all over the world it facilitates its user with an insanely adaptive user interface.
Well equipped with SEO metrics it offers realistic quantitative results. There are multiple services provided by this tool such as backlink analysis, URL ranking, preparation of audit reports, competitive analysis, and the list goes on.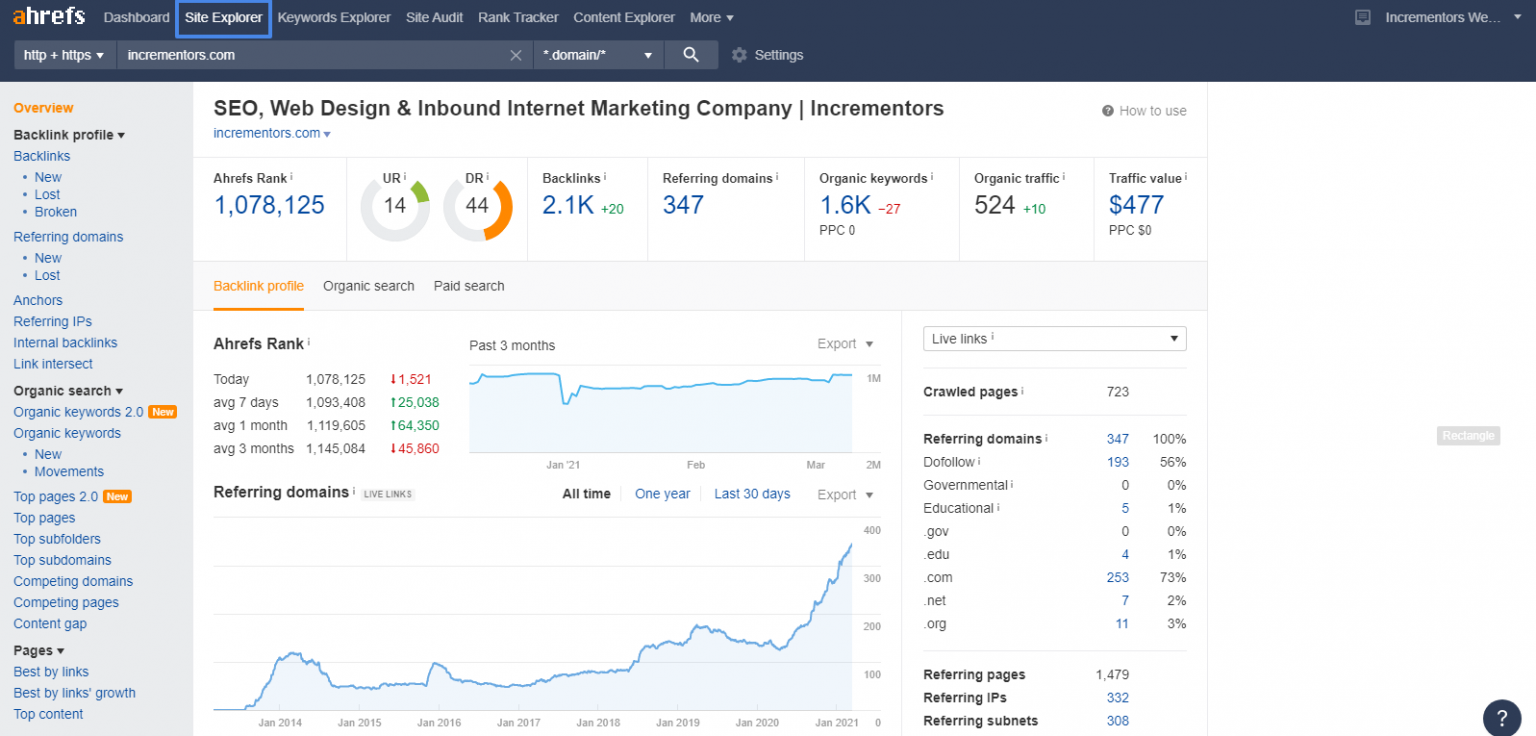 ---
So, finally you have reached the end of this article. I am sure you are now ready to take your ecommerce store to the next level. Thanks for spending some of your precious time on our website. Just to show our gratitude, here is 1 last tip from us…
Thank You Page With an Offer
Have you ever thought that the Thank You page which comes when the purchase is done can also be used as a way to engage with your buyers.
To get the answer of this please read below the answer of "Jacob Landis-Eigsti".
We asked some of our Industry experts about the tips they can offer to generate Ecommerce website leads. Below you will find a couple of new things to learn which are not mentioned in the above 6000 plus Words article.. 🙂
FAQs – Frequently Asked Questions
Why Is SEO Needed for Ecommerce?
Yes, SEO is important for Ecommerce as it holds the power to raise your sales and leads by generating organic traffic for your website. Investing for good SEO of your site can bring you good sales that will last longer as once you have buyers and established trust, it will be a long term connection.
How Is Ecommerce SEO Different From Normal SEO?
Ecommerce sites focus on the sale of the product which other merchants are also selling that is why Google ranking is not just based on the SEO aspects but requires other good quality signals such as additional information for the users, site navigation. Ecommerce SEO focuses on the branding of the product and thus optimized to make it a smooth reach for customers to the final product whereas normal SEO focuses on the services they provide.
Do You Need an SEO Agency for Your Ecommerce Site?
It purely depends on your goal, if you want to generate good leads in a short span of time such that its results lasts long, SEO is a good choice.
Facts says that SEO has the highest ROI for any Ecommerce site.
Does Ecommerce SEO Cost More Than Normal SEO?
Ecommerce SEO does not cost more than normal SEO. You pay for the quality and results of the work not for the Industry so it purely depends on the nature of the work as the SEO company is providing you.
What Results Can I Expect From the Marketing of My Website?
Google ranking is the prime result you can expect from marketing of your website. Secondary results you can expect would be traffic, leads, backlinks, reviews and recommendations, Good quality content.
Is It Profitable to Do Spend on SEO in 2020?
Definitely, when 2020 is a growing era of the majority population shifting to online buying. SEO can help you standout amongst your competitors. Especially when the entire nation is in lockdown and need for ecommerce is more than ever.
How Can Ecommerce SEO Help My Store?
Ecommerce SEO can help you generate more sales and leads by optimizing your site over aspects like keywords, content marketing, link building ,on page and off page SEO.
How Can I Make My Ecommerce Website More Attractive?
For an attractive Ecommerce website, incorporate these basics
Good Quality And Professional Images
A Well-organized Layout,
Sufficient Information,
Easy To Navigate,
Customer Reviews And Feedback
Which Is Better, WooCommerce or Shopify?
Both Shopify and WooCommerece have their own advantages. Shopify offers fixed pricing whereas WooCommerce offers more flexibility with pricing as it's free but involves extra costs for hosting, domain name and security. Shopify on the other side is beginner friendly but WooCommerce is not.
How Much Does an Ecommerce Website Cost?
An Ecommerce website can range from $5 to million dollars depending purely on your decision to incorporate the features. You need to think a little wide on this perspective as it will involve your initial investment over hosting, domain name, customization, configuration, marketing expenditure and other miscellaneous expenses. Apart from this, don't forget about the outdated products that will be included in your loss statement.
What Are the Top Ecommerce Companies? I Want to Learn by Reviewing Their Structure.
Amazon, eBay, Walmart, Etsy, Home Depot & Best buy are the top ecommerce companies but these sites sell everything. So, to understand the structure better you should look at your top competitors. Reviewing Competitors is the best way to plan everything for your ecommerce business.
Is Ecommerce SEO Important for Your Site?
Yes, SEO is extremely important for your e-commerce websites. It allows you the measures to rank your products higher than your competitors and display them in an appealing way so that potential customers can find the products as per their requirements in the SERPs only and are left with no choice but to visit your site.
How Can I Do SEO for an Ecommerce Website?
There are a few things that you can take care of while doing SEO for your ecommerce website.
Provide the most comprehensive answers to the most diverse set of questions about the topic.
Improve your explanations by using better images, videos, or examples.
Improve the user experience by providing a faster site, a better mobile experience, a more intuitive interface, and so on.
Get people to interact and connect with you.
What is The Best Ecommerce CMS?
Shopify – Shopify is a SaaS ecommerce platform which helps in creating a visually appealing online store. This platform has easy-to-use templates and CMS features. These days Shopify is highly in trend.
WordPress – WordPress is the most dominant CMS in the industry. More than 80z5 content-based sites are made in WordPress. To convert any WordPress into ecommerce all you need to do is add the WooCommerce plugin. It's an open-source platform free to download, making it a great fit for small and medium size business.
BigCommerce – BigCommerce is a SaaS ecommerce platform which is easy to streamline your content, ecommerce, and store management for a monthly fee.
Magento – Magento is an open-source ecommerce platform and is available in self-hosted and cloud-hosted options. Magento is a sophisticated program that is a viable option for larger businesses with developer resources.
Some other fairly popular CMS are Prestashop, OpenCart, Wix, Volusion, Sitecore, Joomla, Drupal etc.