To mark your existence in the SEO world, your website has to be unique and highly impactful.
Though you have implemented the best SEO strategies to rank your website high in the SERPs, but the question is, have you monitored the efforts you implemented? How would you know whether your efforts are working or not?
After all, the sole purpose is to rank higher, get more traffic, convert that traffic into loyal customers, and finally make sales and generate revenues…
So what's required here? Would you keep looking at the positions of your website day and night sitting in front of your desktop's screen and identify what improvements are to be done? Nah…
Thanks to some of the best SEO Tracking Software that would help you monitor your efforts and give you insights into your website performance on SERPs.
In this blog, you'll get to know the best SEO tracking software also recommended by several SEO experts to measure your SEO performance.
So let's get started:
List Of The Best SEO Tracking Software
Ahrefs: Keyword Research Tool
What is it:
Believe it or not! But Ahrefs is one of the best SEO tracker software that allows you to keep track of various elements of your website, namely keyword analysis, potential traffic, overall SEO site analysis, and much more.
This is the reason why it is considered to be the most valuable and best SEO tracking software…
What it does:
As the name specifies, one of its main features includes Keyword Research for your SEO
Website. This SEO keyword tracking software helps you find the keywords that are best suitable as well relevant to your website.
It also provides a few metrics that are essential in finding the right keywords. Metrics such as search volume, click-through rates, and low-hanging fruits that you may rank for.
Other features are:
Site Explorer: Allows you to track the performances of specific web pages on your website. That also includes the keywords that are ranking, and gives an overview of the backlinks of your competitors, and so on…
Rank Tracker: This SEO monitoring software allows you to monitor your rankings on multiple screens such as mobile devices and desktops. Plus, it also helps you to track your SEO progress such as your website's rank positions and the amount of organic traffic that arrives.
Site Audit: Helps you conduct a comprehensive website analysis, and gives reports on all the issues identified during the crawl process.
Pricing: Initially, you can use the free limited version of the site explorer and site audit. And the monthly paid version is given below,
Google Search Console
What is it:
Being the best in the business, Google Search Console is a SEO tracking software that lets you track and report your website's performance in Google search results.
With Google Search Console, you can do a website SEO analysis that shows you your website's average position on the search results, the total number of clicks, impressions, and average click-through rates.
What it does: As an SEO monitoring software, GSC can assist you with the user's viewpoint and helps you to optimize your website to enhance its performance in search results.
It also helps you to identify new variants of your keywords so that you can update your SEO content strategy using unique and fresh keywords.
Some of its features include
Keyword Analysis: As mentioned earlier, this SEO keyword-tracking software analysis the keywords and their performance for your web pages.
Site Audit: Gives you an overview of your website's overall performance.
Crawl Errors: Identifies issues found in your website during the crawl.
Site's Responsiveness: This helps you understand the responsiveness of your website and how it can be improved for a better user experience.
Pricing:
It is a free-of-cost SEO tracking software offered by Google itself. You first have to get verified, and then you can measure your website's performance.
SEMRush: Marketing SEO Tools
What is it:
Third, on the list is SEMrush. It was earlier considered a tool only used by professionals but, as soon as new updates came, this SEO tracking tool has become easier to access for those who are new to SEO.
SEMrush contains an all-in-one suite that offers a number of tools namely: keyword research, site audience, backlinks, and other SEO monitoring tools.
What it does:
Some of the features include:
Keyword Magic Tool: This is an amazon keyword tracking software that allows you to discover around 22 million keywords by just inserting a single "seed keyword". Moreover, it helps you to improve your organic keyword strategy and look for creative approaches to win SERPs for your targeted users.
Competitor Analysis: Helps you stay one step ahead of your competition in the Google SERPs. Also, With website competitor analysis, you can monitor SEO listing, top traffic sources, bounce rate, time on page, and more to help you create a better strategy to improve your SEO performance.
Link Building: Helps you to identify the external links pointing towards your website. Plus, find possible chances to outreach links to improve your SEO backlink profile.
With this, it has over 55 other tools such as an On-Page SEO checker, Site audit, Local SEO tracker, and many more.
Pricing:
SerpYou – SEO Keyword Tracking Software
What it is:
As the name suggests, SerpYou is an SEO tracking software that helps you in multiple ways such as keyword analysis, rank tracking, competitor analysis, and much more…
Similarly, it provides you with a single platform to analyze your SEO efforts for multiple search engines like Google, Bing, and Yahoo. Coming to the features, it has…
What it does:
Keyword Rank Tracking Tool: That helps you monitor keyword rankings on various search engines. Also, you can he changes in the SERPs and strategize your SEO efforts.
SERP Tracker: This feature of SerpYou provides you with reports of insights into SERPs so that you come up with new and innovative strategies and stop using outdated SEO techniques.
Competitor Analysis: As an SEO monitoring software, it also provides you with competitor analysis reports and tells what keywords your competitors are using that you can also rank for.
Sends Email Notifications: Allow you set customized email notifications of your website's SEO reports.
Pricing:
Initially, it can be accessed on a free trial basis for 15 days, and the paid plans are given below.
KWfinder: SEO Keyword Tool
What is it:
KwFinder is one of the most effective and easy-to-use SEO keyword tracking software. A simple user interface allows you to identify the best suitable keywords to improve the performance of your SEO website and rank higher.

What it does:
The basic feature of this SEO tracking software is that it finds you the keywords that have the potential to rank but are currently not used by the website owners.
Especially finds long-tailed keywords with low difficulty so that you can use them to improve your SEO techniques to rank higher in the Google SERPs and drive more traffic.
Some other features include:
Competitor Analysis: This allows you to find those keywords (long-tailed) that your competitors may rank for.
Local Keyword Research Tool: Produces keywords that the local public is searching for and helps local SEO businesses to improve their performance and drive more potential customers.
SERP Analysis: It has a SERPwatcher tool that allows you to monitor your SERP rankings and provides you the daily reports. Also, offers you to get insights into the rankings in different countries.
Pricing:
It comes up with a 10-day free trial and after that, the monthly plans are given below.
Linkody
What is it:
Wanna have a track on your Off-Page SEO techniques? The obvious answer is YES! And one of the crucial elements of off-site SEO is the BACKLINKS that your website has. It is very important to have insights into your link-building strategy. And this SEO tracking software makes this task easy for you.
It offers 24/7 SEO Link tracking reports to ease your work and get insights into ow you can build high-quality links.
What it does:
Apart from backlinks, its features include,
Keeps an eye on competitors: Plays the role of a "Spy" and have a track of your competitor's backlinks. With this link-building tracker software, you can have a closer look at the links pointing toward you and your competitors and those who are just pointing toward your competitors.
Disavow Tool: With this, you can quickly identify the harmful backlinks that could be of no use depending on a few metrics such as spam score, DA, and more.
Pricing:
It offers a 30-day free trial. You can just simply start measuring your performances without giving any card details, and the monthly plans are provided below.

Woorank
What is it:
This SEO tracking software has a home for every type of business. Whether you are have digital media marketing agency, a small business, or even an enterprise agency, Woorank can help you in multiple ways with its all-in-one SEO solutions.
Starting from website analysis to beating your competitors in the SERPs and improving your SEO performance, this SEO monitoring software is a complete tool to achieve your online goals.
What it does:
Coming o the feature, WooRank helps you in different aspects to improve your SEO performance. Some of them are…
Website Analysis: Generates overall insights into the performance of your website starting with an On-page SEO report containing the Meta Tags and 82 other factors.
SEO Site Audit: Crawls your website and reports the technical issues that occurred during the crawl. Technical issues such as 404 errors, duplicates, and many other factors affect your site's visibility.
Keyword Tracking: You can use this advanced SEO keyword tracking software to be one step forward in identifying the right keywords for your website. Plus helps you gather keywords that are location-specific.
Competitor Analysis: Identify your competitors and what strategies they are developing to improve their performance and get high traffic and more leads. Also, provide the keywords to improve your SEO content strategy to be one step ahead of your competition.
Pricing:
WooRank comes up with a 14-day free trial and the monthly pricing starts from $79/month.
Moz Pro: SEO Software
What is it:
Moz Pro is a complete powerhouse when it comes to tracking your website's SEO performance. Suggested by professionals and used by experts. This SEO monitoring software comes up with a number of tools to track your SEO performance and gives insight into the improvements that you can to rank even more higher.
What it does:
Let's straightaway discuss its features…
Finds Trending Keywords: Provides a detailed overview of the keywords that might be searching in Google searches. This would help you know what keywords are used and how they are used (question-based keywords) to improve the quality of your SEO content.
Site Auditing and Crawling: Issues such as the site's loading speed, broken links, and 404 errors in your website can be a major drawback that could lead to visitors leaving your site any second, resulting in a higher bounce rate. Through Moz Pro, you can hunt down the issues on your website so that you can fix them as quickly as possible.
Link Opportunities: It is one of the trusted SEO tracking tools as it gives real-time reports into the insights of your website's link-building strategy.
Pricing:
MozPro allows you to access its features for a trial basis of 30 days and the monthly paid version is given below.
ContentKing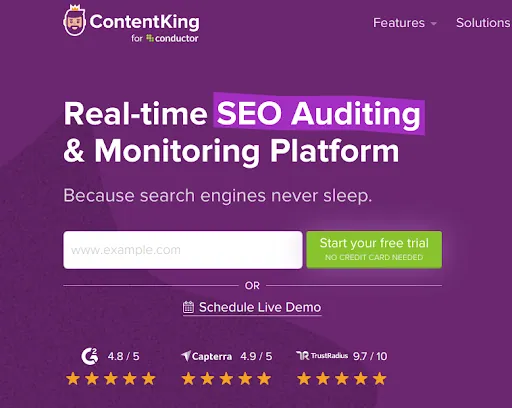 What is it:
ContentKing is a real-time SEO monitoring software that keeps track of everything going on your website. It guarantees a 24/7 monitoring process and provides actual insights and data that even crawlers can't.
What it does:
The features include,
SEO Audit: The sole auditing tool that provides a complete and accurate analysis of your on-page SEO performance.
SEO Alerts: Get alerts for, technical SEO errors: broken links, unindexed pages, etc. Content errors: Meta Title, Descriptions, Headings, etc. Site errors such as missed XML, robot.txt file, slow page speed, etc.
Track Changes: Have a full overview of the changes in your website. Detects minute-to-minute changes and knows what exactly going on, on your website.
Visualize Data: Provides an easy-to-use interface and dashboards to analyze the data quickly with advanced and customized filters as per your needs.
AccuRanker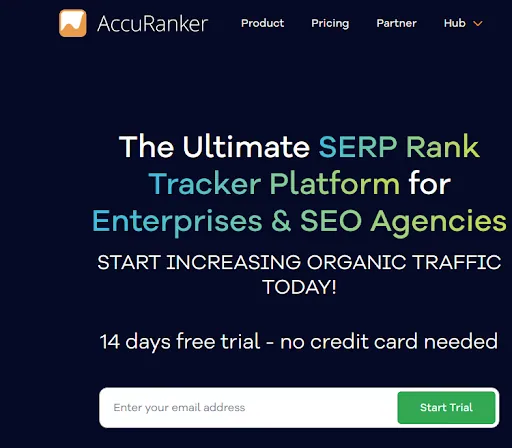 What is it:
Accuranker is one of the leading keyword rank-tracking software available and used by SEO professionals. When it is about identifying the best suitable keywords, AccuRanker is best in this business…
You can monitor your competitors and the keywords they rank for. Plus, if you have multiple domains, you can track them all from a single platform only.
What it does:
Main features of SEO rank tracking software are:
Optimize Landing Pages: Helps you to identify which landing pages are performing better and which need to be optimized.
See Ranking History: Accuraker helps you in tracking the history of the keywords you identified. Similarly, you can compare your competitor's ranking also.
Pricing:
It has a completely free 14 days trial and later you can filter the plans according to the requirements of keywords.
Conclusion
So these were some of the best SEO tracking software on my list. Now, these SEO tracker tools would be of utmost help for you to have a look into your website's overall performance.
Also, with these, you can find out new innovative ways to improve your Search Engine Optimization strategies. Most of them are free (for a limited period of time) so you can have early access to them and get full insights into your SEO website.
So, give them a try and tell me whether you got your website monitored or not.
And if there are still any queries or suggestions, do leave your comments in the comments section given below.