Do you even know where you rank on Google? I doubt that!
To drive more customers, you need to rank at the top.
SEE!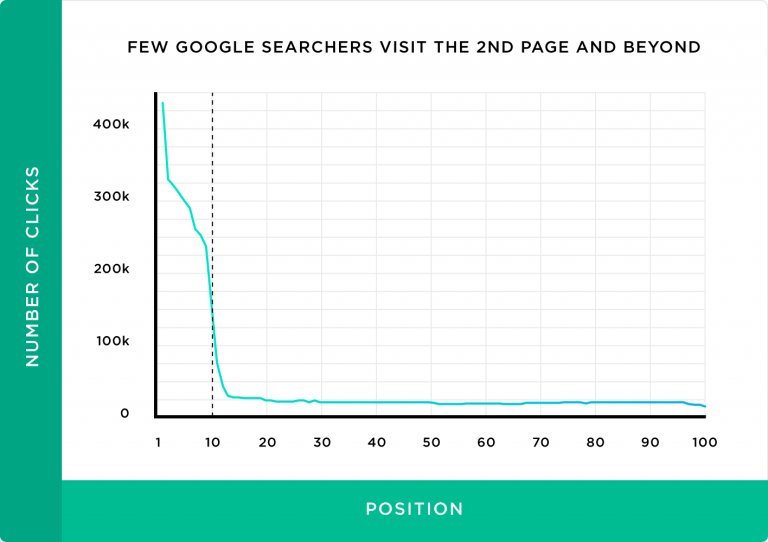 The image clearly states the drop in rankings of pages ranking 10 and above.
What if you are not ranking in the top 10 spots on Google search results?
Knowing the fact that there are almost 7 billion daily searches on Google out of which,
Only 5.7% of total pages rank on page 1 within a year.
So, to be in that 5.7%, or achieve that 1st SPOT, you must be aware of the Trends in SEO
In this blog, You will get to know about the latest SEO Trends to drive more traffic to your website.
So let's begin:
Some of the Latest Google In SEO Trends
Artificial Intelligence In SEO
Artificial Intelligence has been increasingly being used in SEO for better results.
That is why it is considered one of the latest Trends in SEO.
The rise of AI algorithms has made SEO easier and faster for you to achieve better rankings.
This rise has given a way to digital marketers the to focus on the right things. This includes
Content Marketing
Keyword Research
Analysis Automations and,
Increase in Organic Traffic.
Interesting Fact:
30% of AI adopters, increased their revenue by 6-10% after implementing the technology.
Now let us move forward and know how AI helps you drive more traffic…
AI creates Killer SEO Content that you can use on your website to rank higher on Google.
If your website is fully optimized with rich keywords, long-form content, and engaging images, your website will rank higher on Google and can surely drive more traffic
Voice Search Queries To Rank For Voice Searches
It is one of the most interesting trends in SEO which has evolved miserably.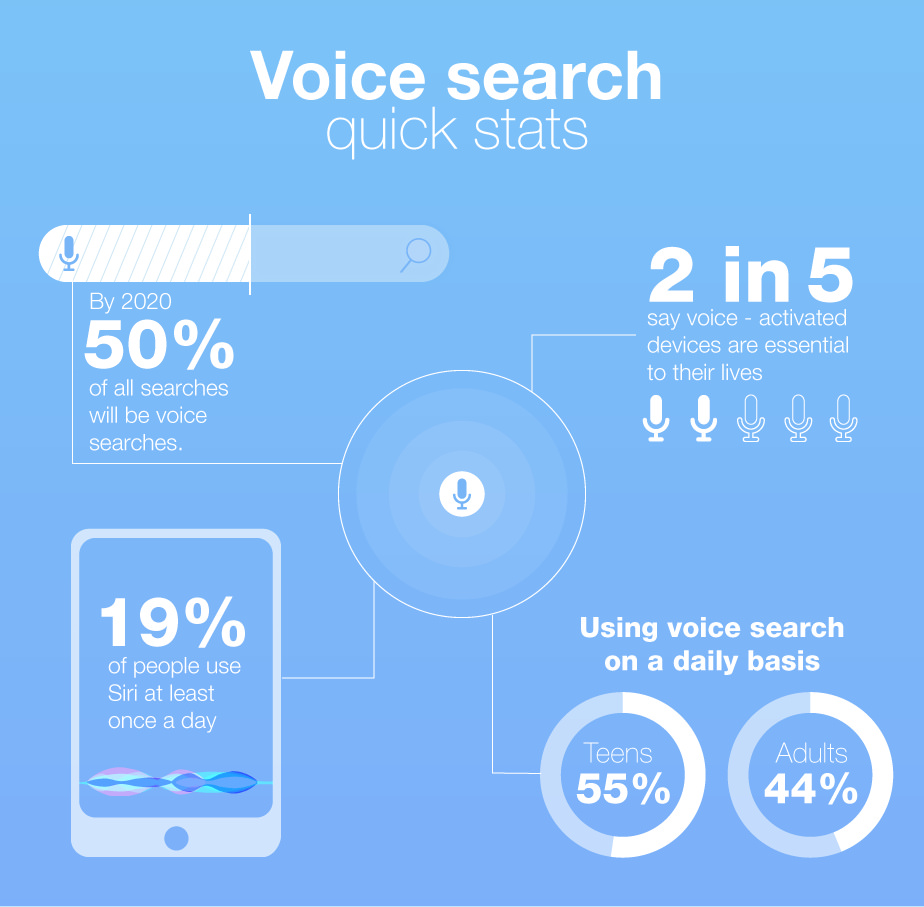 When searching a bit, I have found that…
This SEO trend is so famous that over 55% of Teens and 44% of adults are now using voice search to find information.
Have you heard of Alexa? Or maybe Siri. These are both voice search devices that are used by people,
To search for what they are looking for…
Go ask Google,
Hey Google, What is SEO?
It would also pick the first result that is relevant to the keyword you are targeting
Which is "SEO"! In reply, it will speak up the definition of SEO of the very first search result.
But why the first one only?
The reason is that
The 1st result on the Google SERPs provides the answer to the query in the most suitable manner.
Which is, the answer was short and clear.
This is why optimizing your content for voice search is a must-do thing. This includes
1. Optimize Local Search
SEO for local search is very important to get your business on top and to drive more traffic.
Think of your customers that if they want to visit your place or shop,
How will they? Let's say
You have a coffee shop in New Jersey.
People out there, ask google by voice 'Ok Google, Take me to coffee stores near me
If your website is SEO friendly, then for sure you will be in the top spot.
Like this…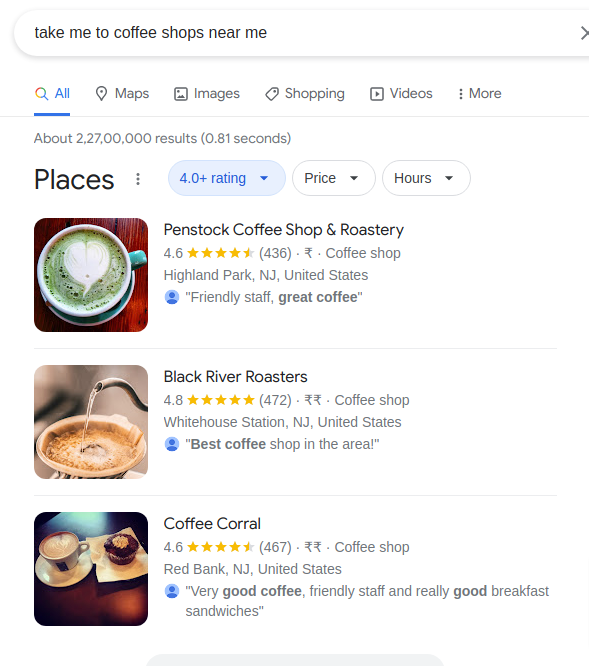 This can definitely drive traffic to your store, as well as make sales.
Also, around 46% of the local searchers convert through voice search
Read More: SEO Ways To Enhance Clicks For "Near Me" Searches
2. Use A Conversational Tone
It is a fact that people naturally ask their queries on voice search rather than typing them.
For this, you should use a conversational tone, the tone in your content.
It is said that, the pages that answer people's questions in the best possible way,
Will rise to the top of the rankings.
3. Answer Your Audience's Frequently Asked Questions
It is found that majority of the people use voice search rather than typing
Keep an eye on what people often ask for.
When you have the perfect image of the questions asked…
Put those questions in your content and answer them.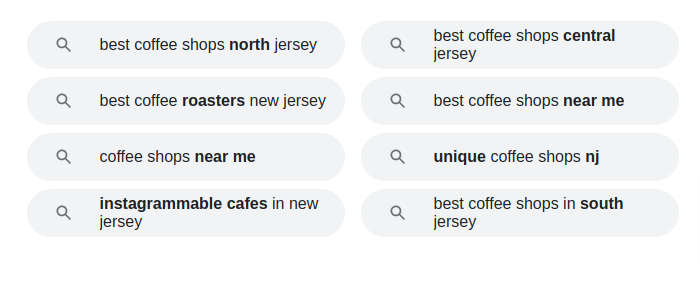 Give the solutions to their problems. And if you will answer better than other websites…
There's no one stopping you from ranking higher.
4. Be Mobile Friendly 
When asked 'what percent of people use voice search on mobile
See what I got…
By this, you can easily get how important it is for your website to be mobile-friendly.
Have look at some statistics below
Here is what the US people search for on Google by Voice Search
DO YOU KNOW?
In the USA, the 1st result on mobile devices gets almost a 26.46% click-through rate. Whereas, on desktop computers, it is around a 32.50% click-through rate.
To sum up: I will only say that,
To rank well as well as drive more traffic to your website, you have to grab all the opportunities you find.
One of them is optimizing Voice Search.
Now let's move on to the next google SEO trends…
Core Web Vitals In SEO
Core Web Vitals In SEO trends are the metrics of Google which includes:
Loading, Interactivity, and Visual Stability.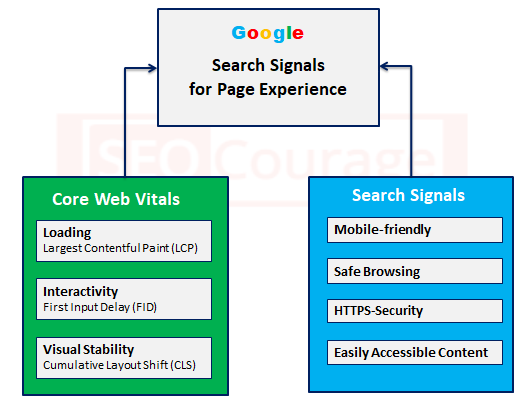 This basically means the overall performance of your website for the users.
All these factors signal one thing, which is Page Speed
For example, If a user comes to your website, and experiences a slow loading time, the pages are not responsive, or the visual stability is poor.
Will that user come back to your website? NOPE!
So, to improve your website's page speed, you have to pay attention to these 'Core Web Vitals'
Here is the brief of the Core Web Vitals: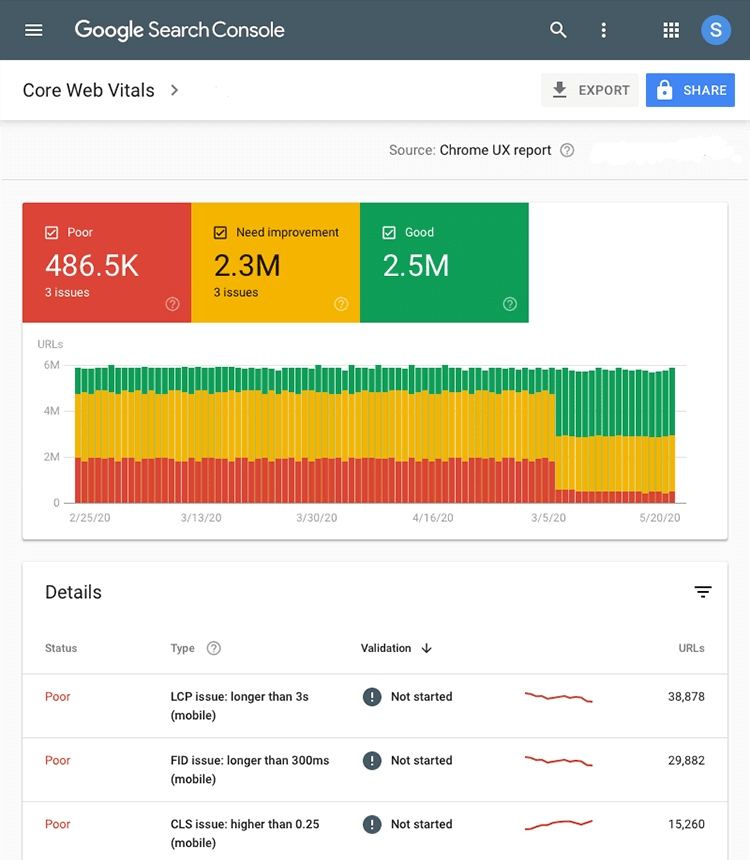 As you can see, there are issues in the core web vitals of a website. However, to overcome this, you have to focus on…
1. LCP: Largest Contentful Paint provides the 'loading performance' of the website.
The LCP should be 2.5 seconds or less when the page is loading.
2. FID: First Input Delay provides 'interactivity'. The FID should occur in less than 100 milliseconds for a good user experience.
As shown in the image below,
3. CLS: Cumulative Layout Shift provides the 'visual stability of the website.
The CLS should be less than 0.1 for a good user experience.
By looking at the above image, you can clearly see that there is a need to improve the CLS of the website.
People Also Ask In Google SERP
Nowadays, the SEO industry is very competitive and there are many google SEO trends.
One such trend in SEO is People Also Ask In Google SERPs.
Google offers you to be in the People Also ask box by which you can appear on the top preferences.
Here is how it looks like: Ask Google 'What are the SEO Trends?
After the featured snippet, the next thing Google shows is the PAA box.
Or ask google, How to make Coffee?
Let's click the first question and see what it looks like,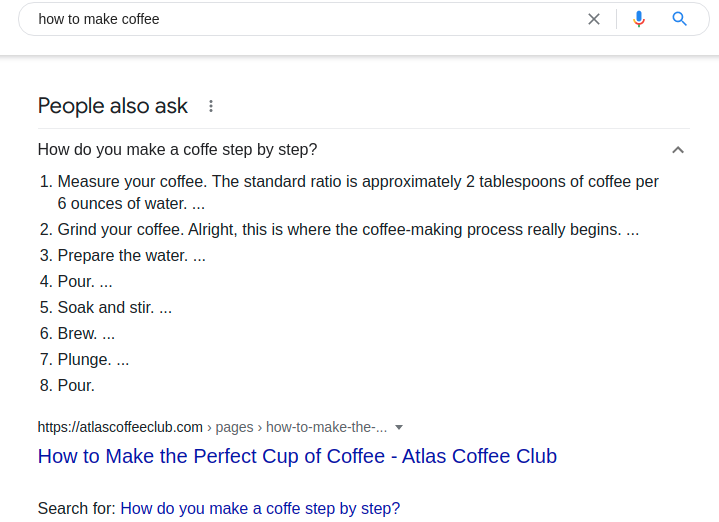 Able to see it?
This is what PAA offers you… The answer to my question is here! 8 Steps to make my coffee.
And If I want to know more about it, I can click on the link and go to the website.
But now the question arises,
How will you be in the People Also Ask box?
For that, you need to give answers to the questions asked by the people, within your content.
Try to write the content using simple, logical steps.
Try to give exact information so that users can easily understand it.
If you remember these points, then you can surely appear in the People Also Ask box of Google and drive more traffic.
E.A.T Algorithm In Google
Google's algorithm is updated from time to time to make sure that the search results are accurate.
Now, to make sure that your website is ranked on top, you need to make sure that you are following the latest SEO trends.
For this, the E.A.T algorithm is a great help.
EAT isn't the food that we eat. E.A.T refers to Expertise, Authoritativeness, and Trustworthiness.
It all depends on how much quality is there in your content.
To establish the best E.A.T score, you first have to understand your audience.
For this, create buyer personas to understand your audience's needs.
Read More: How to Create a Buyer Persona- To Better Understand Your Customers
Next, you need to create content that meets their needs.
For example, If your target audience is 'Teenagers", then you have to give content consisting of images, videos, and graphs. And
If your target audience is Adults, then you can create content in the form of text.
Image Optimization In SEO
SEO sometimes is not an easy task…
But, when it comes to optimizing images can be the most interesting part of it.
Wanna know how? Read more…
Websites having well-optimized images can rank higher than ever before.
Also, they get better visibility in Google and drive more organic traffic.
Here is how SEO-friendly images help your website rank higher:
1. Improving User Experience
Too large images can take time to load, which can be frustrating for users.
And think what? They BOUNCE BACK!
Make sure your images are small and high-quality which navigates the users easily.
Use JPEG and PNG formats for the best image resolution.
2. Faster Site Speed
When it is to SEO, speed is everything. Your website should be able to respond as fast as possible.
And talking about images, large images are not good for your website speed.
These images can slow down the loading time of your website, killing your rankings and your traffic.
Make sure that your images are compressed and smaller.
Here is an example of a compressed image:

3. Make Your Site Accessible
For this, there are a few tips to remember such as Alt Image Text and Mobile Friendliness.
Alt Image Text refers to the description of the images.
As you know google can't read images, but it reads the descriptions of the images and make them rank.
So it is very important to make your images accessible not only to the users, but also the search engines.
Similarly, the images should be mobile-friendly as well…
Why?
Because most of the traffic comes from mobile searches, So it is necessary to make the images fulfill the mobile experience.
Next, on the list of trends in SEO is,
Local Search Listings In SEO
It is a fact that people now mostly use mobile devices to locate nearby businesses.
This is where local SEO comes into action…
Local Listing is the appearance of your website in citation sites which helps the users to find your business,
Let's say, for example, Someone wants to visit your coffee shop and
Search on google, 'Coffee Shops Near Me
There are more chances that the user would click on one of these 3 options on the top.
This is called a Local Pack…
If not this, they may approach here-
Now after clicking on these links, it will show you several coffee shops.
The point is…
If your website is listed in some well-known citation sites, chances are high that the users actually visit your store, which later can turn into sales.
This is why it is important to get listed in the citation sites to drive more traffic.
To know about citations visit here-
You have to get the most out of citations, you must do the following:
Make sure to give NAP details of your site.
Search Intent In SEO
Focussing on search intent, not just the keywords in SEO is a great way to achieve more traffic.
This might sound crazy, but it is what it is…
It is not just about the keywords but it is also about the intent of the users.
What if your customer wants to get information about something, and the results come out to be the product list you offer?
It is in any way related?? NOT AT ALL!
For this, you should be clear about your user's intention.
Whether that user is searching for information or looking for a service or purchasing a product.
As soon as you understand the intention of your target audience…
You can inject suitable long-tailed keywords into your content.
Here are the 4 types of Search Intent:
Google AI Algorithm
Google AI algorithm is a machine learning problem-solving algorithm.
One of them is BERT (Bidirectional Encoder Representations from Transformers).
With this, google bot has become much more conversational which means, google can easily identify the intent of the user.
Now you must think, how is this connected to rankings and traffic?
By this, Google bots are capable of understanding what the content is all about.
Is it related or not, is the content satisfying the users or not?
If the BERT algorithm identifies any mismatch in your content, it will simply not prefer you in the rankings.
This is why it is important to have your content well-written with high-quality keywords.
As better and related content tends to rank higher and can drive more organic traffic.
Last but not least,
Passage Indexing In SEO
Have you heard about Google's latest announcement of its new algorithm, Passage Indexing?
This means Google is now indexing the content of websites to better understand the topics that are being discussed on them.
For Example,
If you wrote an article about UV Radiation And How They Can Be Harmful To Your Health,
Your article consists of deep information about the topic. Now if,
A reader wants to know just about 'how UV rays come through windows and can be harmful to your health
Google with the passage indexing will provide the relevant information to the reader.
How?
Though your article is long, if it covers the topic with answers to the query of the reader,
It will be more likely that Google will index your article higher.
Let me show you an example,
See, how simply provides the relevant information with bold letters.
With this, you can easily get to know that, Google does not rank the whole article.
Instead, it extracts the most relevant part of the article and ranks it.
Now, to achieve this, you must pay attention to the On-page SEO components which are- Content, Keywords, Heading, and other factors also.
Conclusion
So these are The Best Trends In Seo To Drive More Traffic.

So by now, you must be aware of the Top 10 Trends In SEO.
Reading and understanding these google trends SEO is one story but…
Taking advantage of them is another story. So,
To increase your ranking and drive more traffic to your website, make sure you get in touch with the right people and start optimizing your content today!
If you have any recommendations or questions, do comment below in the comment box.
I will catch you down there.
FAQs
1. How has SEO changed in 2022?
With the change in trends in search engines, and with the new AI updates, SEO has become even more important. So, now the focus is more on quality content and getting the best out of it.
2. What is the future of SEO?
SEO is a futuristic field, and it is not going to be the same in the future. Instead, it will grow more at a high pace. So, as a marketer, you must always be updated with the current Trends In SEO and use them to get the best results.
3. What are some useful SEO tips in 2022?
List of a few SEO tips that you must use in your SEO strategy:
Stop focusing on things that don't matter
Keep search intent top of mind, always
Craft compelling title tags
Refresh declining content
Boost important pages with internal links
Improve page experience signals
Double-dip on mixed intent keywords
Include FAQ sections
Fix dead pages with backlinks
Run an annual content audit
Build more backlinks
4. What are people searching for in 2022?
Clothing. 42% of searches.
Video Games. 30% of searches.
Toys. 14% of searches.
Cosmetics. 10% of searches.
Electronics. 2% of searches.
Home appliance. 2% of searches.
5. What are Google Trends in SEO?
Google Trends is a free tool that provides data and graphs on the popularity of specific search terms used on Google and YouTube.