Professional New Jersey
Web Design & SEO Company
Refrain from settling for a website that doesn't represent your brand or attract your target audience. Need a custom website that speaks directly to your ideal customers and drives results? Look no further than Incrementors Web Solutions, a Professional New Jersey Web Design Company.

Transform Your Business with

Professional Web Design

Services in NJ
If you're looking for a web design company in NJ that offers custom web design services and more, look no further than Incrementors Web Solutions. We are a leading NJ website design company specializing in custom web design services.
Our custom web design services are tailored to create unique and engaging websites that stand out from the competition. From concept to launch, we work closely with our clients to ensure that their website accurately reflects their brand and effectively communicates their message to their target audience.
Are you serious about taking your online presence to the next level and doubling your revenue? So Don't wait any longer to get started!
Book a strategy session with Incrementors Web Solutions today and discover how our custom web design services and digital marketing expertise can help you achieve your business goals.
Our team of expert designers and developers has over 10 years of experience creating custom websites that stand out from the competition. But we don't just stop at custom web design services. We also offer a variety of digital marketing services to help your business grow, including search engine optimization (SEO), social media marketing (SMM), and pay-per-click (PPC) advertising.
Looking to increase your online visibility, engage your target audience, or convert more visitors into customers? Just ring us to get started.
With this, let's look at our services as a web design company in New Jersey, CA, United States.
Partner With Incrementors and Get the Professional Website Design Services Your Business Deserves!
Our Custom

Web Design

Process
As the best NJ website design company, we follow a systematic process to ensure that we create a website that meets your business goals and captures your brand's essence. Our website design process typically includes the following steps:
Buckle up to launch your desired website with our affordable and custom web design service. Just hit the start button and be ready to see your business grow.
Choose A Web Design That Perfectly Meets Your Needs!
Here are some samples of some modern-day web designs, have a look ⬇️
Tired of reading long PDFs? Are you a quick action taker?
Use the tool below to audit your website and start fixing it within the next 5 mins.
Investing in a professional website design company is a smart decision for any business owner who wants to make a lasting impression online and stand out from the competition. The reason for this is simple. Professionals bring years of experience and knowledge, ensuring your website is attractive and useful. They can also offer significant insights and recommendations on best practices for search engine optimization, user experience, and conversion rates.
Our NJ website design company offers a range of services to help you create a professional and effective website to help your business stand out online.
Some benefits of working with us include
Custom website design tailored to your business goals and needs
Expertise in user experience, search engine optimization, and responsive design
Ongoing support and maintenance to ensure your website is always up-to-date and running smoothly
Competitive pricing and a commitment to 100% customer satisfaction.
The cost of hiring a professional NJ website design company varies depending on various aspects, including the size and complexity of your project, the design team's experience and expertise, and the specific services you require. A basic website design package can range in price from a few hundred to a few thousand dollars, but more complex projects might cost tens of thousands or more. To better understand the costs and services available, requesting a quotation or consultation from a few different design services is always a good idea.
Having a functional and up-to-date website is crucial for the success of any business. That's why at our website design company, we focus on creating stunning websites and provide ongoing website maintenance and support services. Therefore,
our goal at Incrementors Web Solutions is to make our clients' lives easier so they can focus on running their businesses. So yes! Our website design company offers continuous maintenance and support to ensure your website remains updated, safe, and functional. To keep your website operating properly, our professionals will routinely update it with the latest software, security fixes, and content.
"While looking for someone to implement SEO for me, I came across Shwetabh on Upwork with Incrementors. I preferred them because of the existing work he had done and the proven results he had, which were quite remarkable and what piqued my interest. The results that he had were quite impressive, and what I found noteworthy was that many of the competing suppliers merely gave me the data they had. The other reasons include the implementation work itself, the cost, and the fact that they're hands-on. It was impressive to see how they applied their SEO expertise, which involved a lot of backlinking efforts, identifying key keywords, and a lot of specific topics. They did the work, and they did a fantastic job at documenting everything with lots and lots of spreadsheets, analyzing all the numbers, and tracking increases throughout while staying up to date with the Google algorithm modifications. Overall, I had a high standard of service, and I would highly recommend them."
"I've been working on SEO for my website Learnbrands.com with Devendra at Incrementors for more than a year. Working with Devendra (SEO expert), I have seen significant increases with all of our keywords. In addition to improvements in actual SEO, some of the biggest improvements I saw were keywords that were ranked in the 30s or 60s on the SERPs moving up to the one, two, and three spots. We continue to work on more and more keywords and see improvement in everything. With his great help and expertise, he produces rich results for my website. Very well coordinated through email communication, transparent reporting, and much more. I appreciate their efforts and strategies. Great job, and highly recommended SEO experts and company."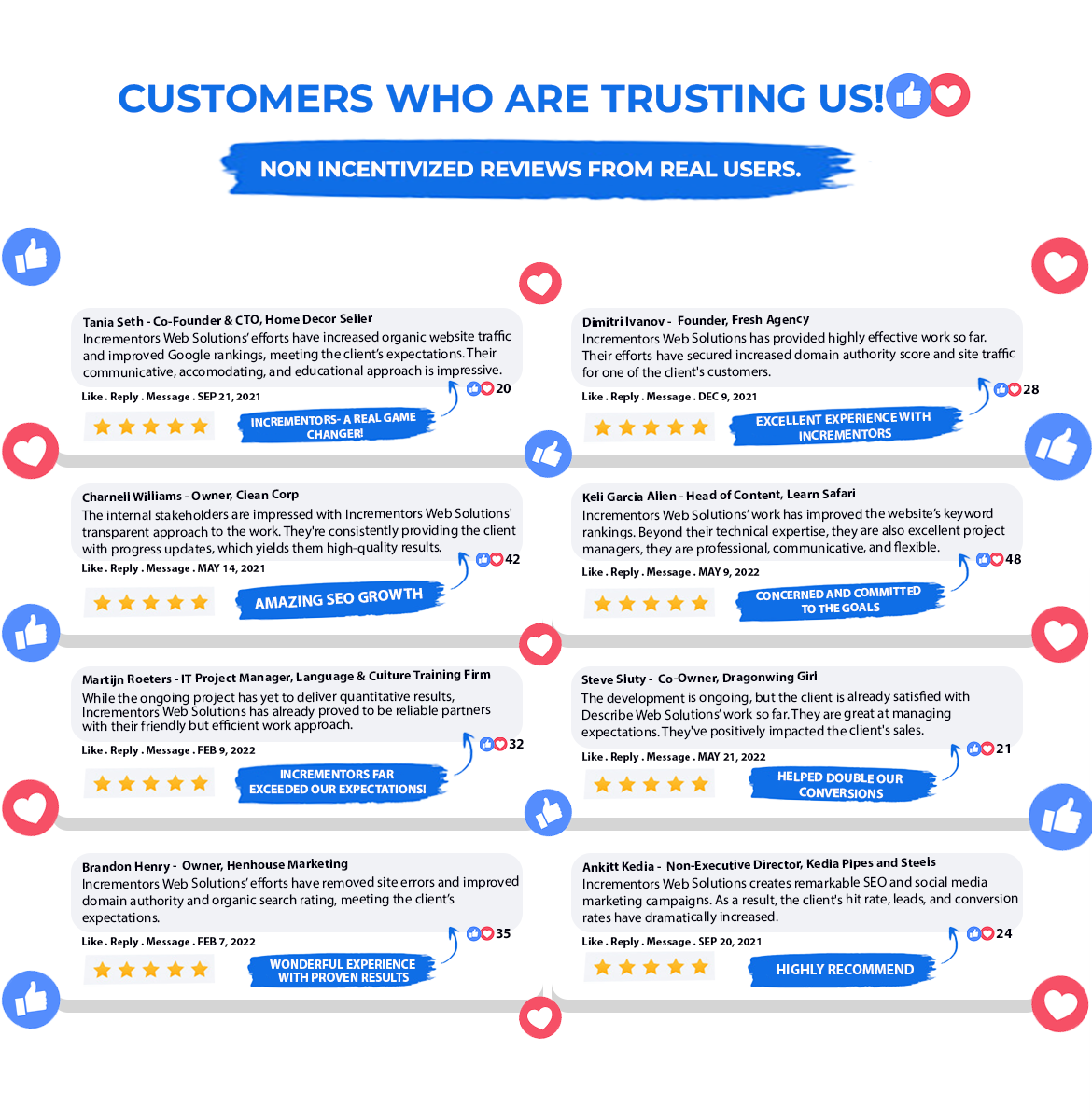 We Will
Get Your Sales Call

Higher
Contact us if you are serious about doubling your revenue.