Finding it difficult to get your medical website to rank higher? If YES, then you must optimize your medical website for search engines.
See, there are chances that your patients would be looking for you on Google but can't find you. The reason? Your medical webiste does not even exist in the search results.
Whether you are an expert in medical science or a doctor in a clinic, it is important that your website should be search engine optimized to get higher ranks and ultimately drive more patients…
So now, I am going to tell you everything about medical search engine optimization and how you can go for SEO for medical websites to rank higher.
Let's dive in:
What Is Medical SEO?
Let me start with the basis…
Search engine optimization (SEO) for medical websites is basically the process of making your medical website rank higher in search engines like Google. For this, you have to invest quality time and effort in making a few strategies and work on them. I'll be discussing the strategies in detail sooner.
But to ease your understanding let me tell you an example…
Suppose, you have a medical website and you want to reach more and more patients, but how will this happen? Well, to get more potential traffic to visit your website, you must look to invest in a few SEO services and make the required changes to your website.
But now, you must ask a question, is it necessary to invest in Medical SEO?
Should You Invest In SEO For Medical Websites?
A simple answer to this is Yes! You can surely invest in optimizing medical websites, and see the wonders happening.
To prove my point, I have a few facts for you.
When ranked on Google searches, the medial websites tend to drive 3X more traffic as compared to the non-searched ones.
Around 5% of Google searches are medical or healthcare-related.
To be specific, Google gets 70,000+ medical-related search queries.
Around 2.4% of medical appointments are scheduled online.
Talking about conversion, medical websites' conversion rate varies from 3-8 percent.
With this, I think it's enough, for now, to make you believe why you have to invest in medical SEO. Going for SEO for medical websites will not only get you higher rankings, but also more organic patients that need your medical services.
With importance, comes the benefits… So let me tell you a few benefits of implementing SEO on medical websites.
See, By utilizing the correct SEO practices, you may lead the search results and make a stronger impression on the audience.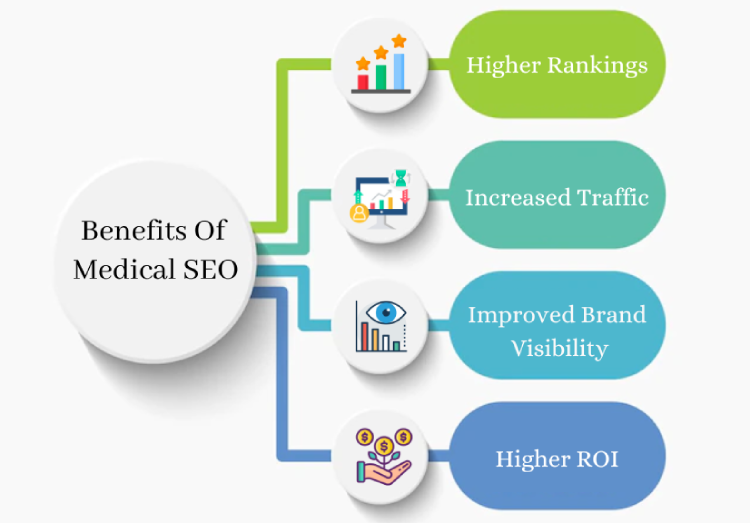 So, what do you say? Is it worth investing to make your medical websites more visible? Or do you still wanna send your traffic to your competitors? I am sure you don't want this.
And now, the crucial part!
Elements for Medical SEO
On-Page SEO
For any medical website, it is mandatory to focus on improving the On-Page SEO of the website.
On-Page factors are what the incoming users or patients see when clicking on the links in the SERPs. It includes the Meta Tags (Meta Title and Meta Description and Headings), keywords, and visuals that you include in the framing of your website.
Keyword research determines the terms that are being searched by the patients to find your website on Google. To rank for such phrases, you must develop quality content including keywords and attractive visuals.
Also, regularly update and improve the quality of your according to the new updates of Google or if you find that something new is there to add to your content to make it more innovative and unique.
Read More: The Only On-Page Optimization Checklist You Need
Off-Page SEO
Going for Off-Page SEO could also be an indirect way to rank your optimized medical website.
Driving high-quality backlinks, being cited on local directories, and online reviews are a few factors affecting off-page SEO.
For example,
If search engines like Google find out that there are high quality websites pointing towards you, your website is listed in high-quality directories and there is a bunch of reviews from the patients for your medical website… then it will build trust for you to make you rank higher so that more patients can find your services.
Technical SEO
Technical SEO includes all the functions performed on the back of a business website. This includes the loading page speed, broken links, crawling, and indexing.
As the users are becoming more and more frequent. It is of the utmost importance to develop a medical webiste that responds fast and has no performance issues.
Identifying common technical issues and improving your website's overall technical health can really boost your medical website's rankings and gather more organic patients.
With this, let us now dig a little deeper, and let me tell you a few tips to make your medical websites rank higher on Google SERPs.
Read More: Most Common Technical SEO Issues and Ways to Resolve Them
Local SEO
For niches such as healthcare, medical, or dental websites, it is crucial for you to be found by the patients as quickly as possible. For this, local SEO can be of some benefit.
Suppose someone needs nutrition therapy and wants to visit the nearest medical clinic for consultation.
What would that person do? Simply type, "nutrition medical consultant near me" or maybe if that patient wants to visit a clinic in a specific location such as "nutrition medical consultant near North California."
And if your website or medical clinic is optimized for local SEO, then Google would most probably rank you higher for such "near me" searches.
Once you rank for relevant local searches, your patients will recognize you as a viable option that can lead to conversions. Maybe they visit your clinic to book an appointment or make a call.
Therefore, if you want to drive more rich results i.e more patients, and higher revenues, then you must go for local SEO for your medical websites.
Read More: Local SEO Hacks – Ways To Increase Local Website Traffic
With this let me take you through each and every tip for medical SEO that would boost your rankings and help you reach more potential patients.
10 Tips To Do Medical SEO On Your Website And Rank Higher
Now, let us discuss the tips for medical SEO. These tips or SEO strategies will help to improve your medical website's online presence and appear higher on search engine results to drive more patients.
Find Keywords Your Patients Might Be Searching For
The first and foremost task to do is to find high-quality and relevant keywords that are best suitable for your SEO medical website. For this, you have to brainstorm the services you offer and most probably those could be the queries that your patients must be searching for.
To find, you can take the help of some of the most used and trusted keyword research tools such as Google Keyword Planner, Ahrefs, and many more.
Moreover, try identifying long-tailed keywords as these queries have lesser search volume but higher chances to rank when the searchers look for specific services.
For example, a keyword such as "Doctor in New York" having a higher search volume could not be of much use as compared to a keyword like "Chiropractic specialist in New York."
This is because it is not always the search volume of a keyword that matters but also the keyword difficulty that indicates how difficult it is to rank for that keyword.
Read More: 11 Best Keyword Research Tools In 2022
Below are a few examples that I got during keyword research…
Try To Get High EAT (Expertise, Authoritativeness, Trustworthiness)
Optimizing your medical website and not going for E.A.T. optimization can be the worst mistake you can make for your business. E.A.T (expertise, authoritativeness, trustworthiness) is the most critical factor in ranking higher in google.
If you have a medical healthcare website, you should have the right content on your website that tells Google that you are an expert in the field of healthcare. 
With this is it also necessary to ensure that you are perfect in all ways. In other words, it means that your website should be credible and trustworthy.
And this is where comes the role of holistic SEO strategy. It means, optimizing your medical and healthcare website, keeping in mind all the aspects of the healthcare business.
Plus, not just the correct information and content on your site, but also the information should be easy to understand and safe.
Read More: What Is Google E.A.T SEO and How To Perform It?
Here are a few factors you can look into to improve your E.A.T score…
Get Good Reviews
Get High-Quality Links From Other Websites
Create High-Quality Content
Enhance Branding
Doing this would really help your medical website gain more trust and tell search engines like Google that it makes sense to rank your website higher when searching for related queries. And this is how you can improve the E.A.T. score by making your medical website search engine optimized
It is your duty to make the visitors comfortable, not frustrated. A big reason for people leaving a website is could be due to people not able to find what they needed.
If you are also providing any information on your healthcare medical website and unfortunately people are not able to find it, then that information is of no use.
So how will you make your website easily navigable? Firstly, place the menu bar that includes the most important aspects. Secondly, place the best and the most important services right up on the front page. At last, try to make your website's sitemap easily accessible to the patients.
Make Sure Your Medical Site Is Fast, Secure & Mobile Friendly
There is no doubt that most of the patients look for medical services online through their mobile devices. Because of this, it is of the utmost importance to optimize your medical website and make it mobile friendly.
By mobile-friendly, I mean your website should be fast and responsive on mobile phones.
Site speed could the number one reason to make visitors stay or leave your healthcare website. It is all about how quickly each and every aspect of your website loads up.
The best way to measure your website's loading speed is through Google Page Insights. And factors affecting the loading speed include the images, information, videos, navigation menus, etc.
By speed, you may ask how quickly it has to be. I say, not more than a second or a two, that's it! In fact, Google says the ideal loading time should be under a half second.
But speed does not solely matter… It's security that also comes into act.
If your website does not have safe HTTPS, then there's something to work on before coming to medical SEO.
And mobile friendly as I said earlier, becomes a crucial factor in easily accessing your medical website when optimized for mobile devices.
Below are a few stats to show why optimizing for mobile devices is so very important…
In every case, the most commonly used device is "mobile." People conducting near-me searches, finding medical stores for services, allergists, physicians, and much more health-related queries are done through devices but the most preferred device is MOBILE.
Have Webpages With Quality Content Optimized For Medical SEO
Having content that is well-optimized and relevant to the audience is a fine art to do. Suppose your website loads quickly, is mobile-friendly, and has no security issues, but it still is not able to make the patients stay and render your services… Why?
One considerable reason can be the content. If your content is not engaging and not relevant to the patients, there is no chance of them taking your services.
Moreover, driving traffic is a second thing, the first one is your rankings… Finding irrelevant content on your medical website, Google will simply not index your website and ultimately rank lower down the SERPS.
Talking about the content, it must be informative to the patients. See, whether you know it or not, if you are not fulfilling the needs of your patients through the content, then nothing's going to work well.
But before everything, it is also to make your medical SEO website rank higher first! And one way to make it rank higher is by inserting the right keywords in the right place and letting Google do the rest.
Therefore, to rank higher on the SERPs, you must create unique and designed content that is user-oriented, not Google-oriented. If your content corresponds to the needs of the patient's query, you'll be ranked higher automatically.
Have An Account On GMB With Accurate Details
To enhance the local SEO of your medical and healthcare website, register it on Google My Business. This would not only improve your website's local SEO but also increase the chance of getting listed in the "local 3 pack."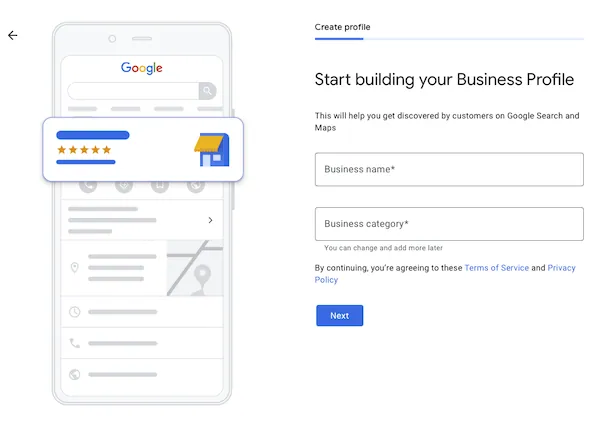 A few tips to fully optimize your medical website for Google My Business are:
Claim Your Business On GMB
Provide Information Of Your Medical business (NAP)
Upload Photos Of Your Services, Team, Clinic
Give all details such as Hours (Opening/Closing)
Provide Public Reviews
Website Email
Map Location
Read More: Complete Google My Business Guide
Follow The YMYL Rules
Google gives a special place to health and medical-related websites. This is why these websites are also known as YMYL pages, which stand for Your Money or Your Life.
A special place, but why?
Medical and healthcare websites could have an impact on the health, happiness, and financial stability of the users, and this is the reason that Google categorized such websites as high standard.
Just ranking low-quality medical websites higher could lead to consequences for the users. Maybe they get affected reading the content or they may receive any ill-treatment.
So, it is important to create content that is both medically relevant and engaging.
Read More: What Is YMYL And How Does It Affect SEO?
Build Backlinks From Authoritative Websites
The Link Building technique is one crucial element to get your medical SEO website to improve its rankings and be found by the potential public.
But here's a thing, though the backlinks can boost your rankings and profits, but they can also cause penalties for your medical website.
How? Getting links through black hat tactics can surely hurt your site. Some of the most common blackhat tactics include spammy backlinks or links that aren't really relevant to your niche, are of no use, and can even lead to penalties from Google.
There are multiple ways to gather high-quality backlinks and a few of them are getting links through HARO, Guest Posting, and the Skyscraper technique.
With this, you may have got to know that it is a must to ensure that you get high-quality backlinks pointing toward your medical website. Plus make sure those links are coming from some good websites that are similar to your niche.
Use Short And Optimized URLs
URLs might appear as a very tiny little part when it is about optimizing. Website owners sometimes remark the URLs unnoticed as there are much more interesting aspects in medical SEO.
It is all about how well-written, short, and understandable your medical website's URL is…
And yes, it is what is considered a major factor in enhancing the user experience. Similarly, URLs are also considered a ranking factor.
This is why SEO-friendly URLs tend to get clicked more which can also increase your rankings.
Read More: How To Create An SEO-Friendly URL
Optimize Images And Videos
Images and videos are a powerful way to make your medical website more engaging and create a sense of relativity.
Including visuals can really enhance the user experience and make the users stay for a longer period of time. Plus, it is found that most of the users (approx 80%) don't read all the text of the website and spend most of their time looking for engaging visuals.
So, the reason is clear: to make your medical website search engine optimized and more involved and engaging, you must include attractive visuals on your web pages.
Also, do consider optimizing the images and videos… here's how you make them optimized.
Add visuals relevant to the content
Use proper image and video format
Assign names to the images and videos (include the keyword in the description)
Use proper image size (mobile-friendly)
Have a proper Alt Text Attribute
Conclusion
So these were some tips for SEO for medical websites and how you can optimize your medical websites and make them rank higher on Google search results to drive more organic traffic and potential patients.
If you are the one who wants to do SEO for medical websites, then I would like to offer you our best SEO Medical services. With our expert knowledge in Medical SEO, we can help you grow your medical website and make it rank higher to double your reach and get found by patients who are looking for your services.
And if you have any doubts or suggestions, comment them down below in the comments section. I will surely reply to you back!
FAQs
1. Is there any need for SEO for medical websites?
Do I need SEO for my medical website?  If you have a website for your medical practice, the answer is yes. SEO will help potential patients find your website when they search online for the treatments and services you offer. Without SEO, your website may not rank high enough in search engine results pages (SERP) to be seen by people who need your help. So, if you want your medical websites to increase their visibility and, ultimately, the number of potential patients, you have to go with SEO for medical websites.
2. How can I market my website for healthcare SEO?
It is about how advanced your medical SEO website is and what makes you special from your competitors. Therefore, if you have a healthcare medical seo website then you work on each and every aspect to make it rank higher. And one such way to enhance the visibility of your medical website is by marketing your website on various platforms and promotional strategies.
Some of the marketing strategies include:
Content marketing- This is the ultimate powerhouse to encourage visitors and turn them into conversions. Through your content, you can list the practices in which you have an immense specialty. Plus you can also provide testimonials to be more trustable.
Email opt in- For the purpose of generating leads, including an email opt-in on your website is essential. Set up an email marketing campaign to engage these potential patients, inform them of the services you provide, and persuade them to buy a package or schedule a session.
Online Appointment Bookings- In order to "qualify" a potential lead, offer a free 15-20 minute discovery call for your practice. It's essentially your best chance to speak with potential clients one-on-one and see whether they are a good fit for your business.